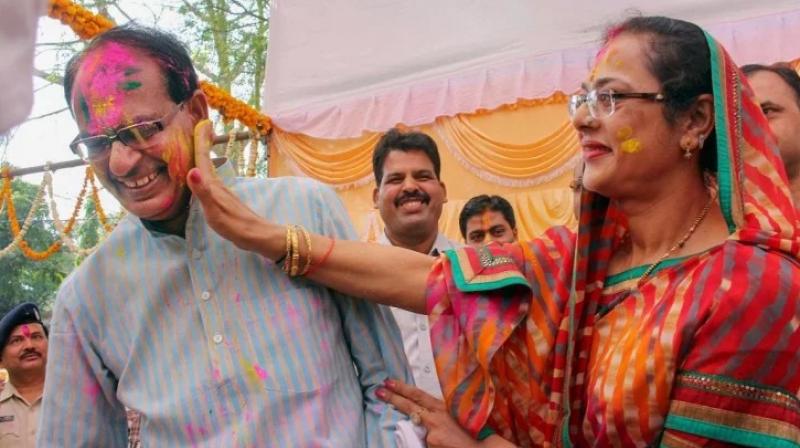 Leaders of different political parties celebrate Holi
Kolkata, Mar 21 (PTI) Cutting across party lines leaders of different political parties in West Bengal, including Lok Sabha candidates, hit the streets smeared in gulal and colours on Thursday, as the state celebrated Holi. West Bengal Chief Minister Mamata Banerjee wished the people of the state on the occasion of Holi. In a tweet, Banerjee said "she won't be celebrating Holi this year in memory of the Pulwama martyrs." 
The chief minister was at her residence and exchanged Holi wishes with her close friends, party sources said. Trinamool Congress MP from Srirampore Lok Sabha constituency Kalyan Bandyopadhyay, who is seeking election from the same seat danced to the beat of drums in his constituency after offering puja at a local temple.
BJP leader in Barrackpore, Arjun Singh who had recently switched allegiance to the saffron party from Trinamool Congress, hit the road in Bhatpara assembly segment, singing 'Rang Barse Bhige'. Singh called upon people to "end the TMC misrule and vote the BJP to power."
Both TMC candidate from Kolkata South Lok Sabha seat Mala Roy and her CPI(M) rival Nandini Mukhopadhyay hit the campaign trail in open jeep as party supporters and voters rubbed green and red gulals on their faces. "We are telling people about the policies of our parties, the inherent dangers the country is facing and also participating in Holi," both the women candidates told reporters separately.
CPI(M) MP in Jadavpur constituency Bikash Bhattacharya wished the voters happy Holi and told them "Please vote for the Left, vote for the secular forces. Only they can lift up the country from the mess, TMC and BJP are two sides of the same coin - as fascist forces". TMC candidate Prasun Bandyopadhyay visited Salkia area under his constituency accompanied by local party MLA and cricketer Lakshmi Ratan Shukla.
West Bengal minister Firhad Hakim, who was flanked by common people and voters in Chetla area, said "we have been celebrating Holi for years. This is the tradition of Bengal, to celebrate different festivals with equal gusto and enthusiasm."  "No divisive force can create any rift in Bengal," he said.
Congress leader Adhir Chowdhury wished the people happy Holi at the party office in Behrampore in Murshidabad district.
BJP Mahila Morcha leader Locket Chatterjee played Holi with her party supporters.