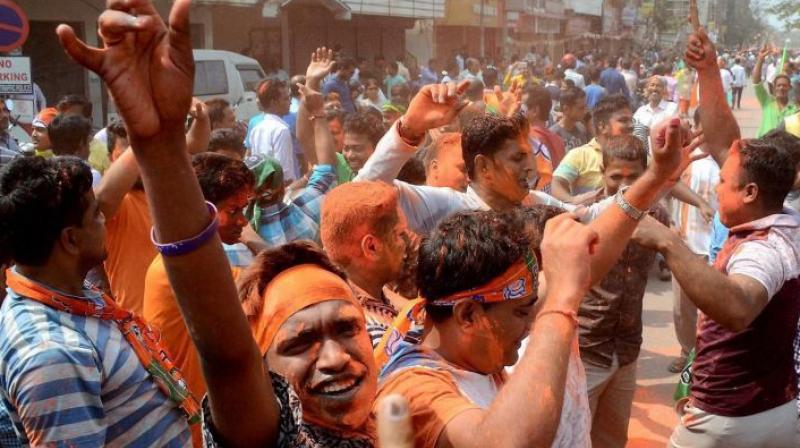 BJP workers celebrating victory party
BJP workers across Karnataka today began celebrations as trends showed the saffron party was set to form a government in the state. Counting of votes for the May 12 Karnataka Assembly elections began this morning at 38 centres in the state. Sweets and delicacies were distributed among boisterous party workers and supporters who gathered at the state BJP headquarters here and its offices across Karnataka, including those in Kalaburagi, Hubbali-Dharwad, Mangaluru, and Shivamogga. BJP workers had gathered this morning amid an air of anxiety as several poll surveys and exit polls had predicted a hung house with some giving an edge to the ruling Congress. But as results trickled in they erupted with joy with the BJP maintaining a steady lead, leaving its main opponent, the Congress, far behind.
BJP workers celebrate the party's lead in Karnataka Assembly Election
Party workers danced to music and raised slogans such as "Bharat Mata ki Jai", "Narendra Modi Ki Jai" and "BJP Ki Jai". However, the Congress headquarters in Bengaluru, bore a deserted look, as the party found itself lagging in all regions of the state.  The BJP appeared headed for a simple majority in the Karnataka elections, with its candidates leading in 115 assembly seats, leaving the ruling Congress way behind, according to the latest trends available for 220 of the states 222 seats where polling was held.  Polling for R R Nagar seat was deferred on account of alleged electoral malpractices, while it was countermanded in Jayanagar seat following the death of the BJP candidate.