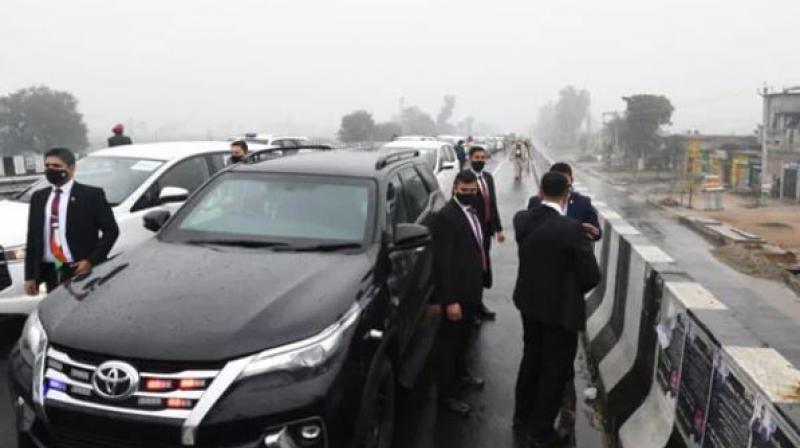 PM Modi Security Lapse Case
Punjab Police took the service of private taxis from Bathinda: Sources 
CHANDIGARH: In a major revelation in connection with the Prime Minister Narendra Modi Security Lapse Case, in the report of the committee headed by retired Justice Indu Malhotra, it has been disclosed that the security convoy (carcade) deployed by the state government police for the protection of the Prime Minister did not follow the security rules, instead the majority of private taxis were used in the convoy. The information has been received by media sources. 
The investigation report has revealed that taking in view the bad weather conditions, the Punjab Police took the service of private taxis from Bathinda. Only six government vehicles were included in the 24 vehicles security convoy of the Prime Minister. Rest were the private taxis. 
Notably, report stated that on the day of the incident, when the farmer protestors blocked the highway ahead, Prime Minister Narendra Modi's convoy got stuck on the flyover near Ferozepur, because the private drivers were not trained enough to unload the vehicles from the flyover. The Prime Minister was stuck in traffic for 20 minutes, which is totally against the security rules. 
It is worth mentioning here that the Supreme Court has decided to investigate the entire matter related to PM Modi Security Lapse in Punjab as it is a matter of concern for the central government.  
What's the whole matter?
 
On January 5, 2022, Prime Minister Narendra Modi was on his way to Ferozepur for an election rally. He was stopped for 20 minutes on a flyover about 30 km from Hussainiwala due to a blockade by protesting farmers. 
This incident had raised questions on the security arrangements of the state government for PM. The Opposition has accused the then Congress-led Punjab government of a murderous conspiracy against the Prime Minister. The Centre had criticised Punjab police for failing to prepare a contingency route for the PM's visit, in line with protocol and questions were raised over the events that led to the convoy getting stuck on that flyover.
The Supreme Court then appointed a committee to find out if there was any criminal conspiracy in the incident and also probe the role of the Punjab police.
According to officials associated with the probe, the statements of all witnesses - Special Protection Group (SPG) personnel, Punjab Police personnel and also bystanders were recorded.
Sources say the committee had also examined videos showing PM Modi sitting in the car and those of the protesters blocking the road ahead.