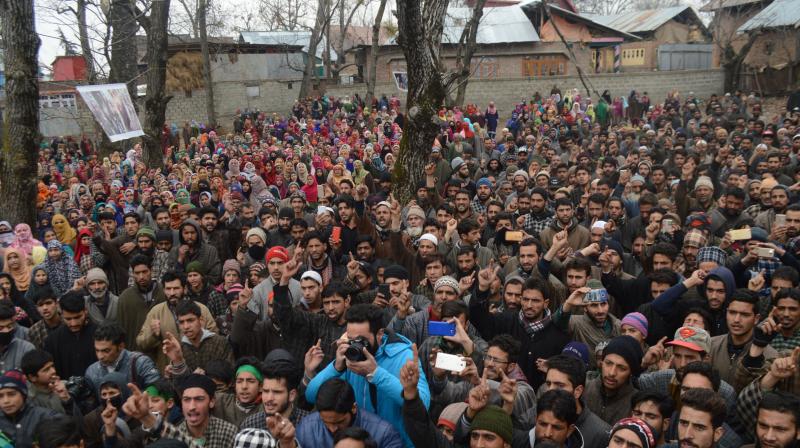 Tensions High in Shopian After Five Civilians Killed
The opposition parties in Jammu and Kashmir today condemned the killing of civilians near an encounter site in Shopian, alleging that the situation is a fallout of wrong policies adopted by the state as well as the central government. Jammu and Kashmir Pradesh Congress Committee (JKPCC) president G A Mir expressed profound grief over the civilian killings in Shopian and described it as highly unfortunate and painful. "The civilian killings are the fallout of wrong policies adopted by both the state and central government. The Centre lacks any Kashmir policy, which is responsible for an extremely volatile situation in the valley," a party spokesman said in a statement here. Five civilians died during clashes between protesters and law enforcing agencies near the encounter site in Shopian district today. Senior CPI(M) leader M Y Tarigami alleged that the killings have become an everyday norm in Kashmir now and "it seems the government is least bothered about this unfortunate tragic situation." 

"How long it will take the government to wake up from the slumber and initiate a dialogue to address this mass unrest?" he asked. "For how long the blood of civilians will continue to flow in Kashmir? We have been reiterating it that there is no military solution to address this issue except to imitate a credible process of structured dialogue with all stakeholders. Unfortunately, political leadership is not responding to this worsening situation through the political process, Tarigami said. He claimed that the "indifferent and callous attitude" of those in power in Delhi and Srinagar is only "inflaming the already worsening situation further."  "I have no words to condemn these killings as mere condemnations every time a civilian is killed aren't enough. Ordering a probe after every killing is not a solution to the problem as people have lost faith in such probes," he said. While expressing solidarity with the bereaved families, he demanded an immediate end to "impunity to security forces in such cases".