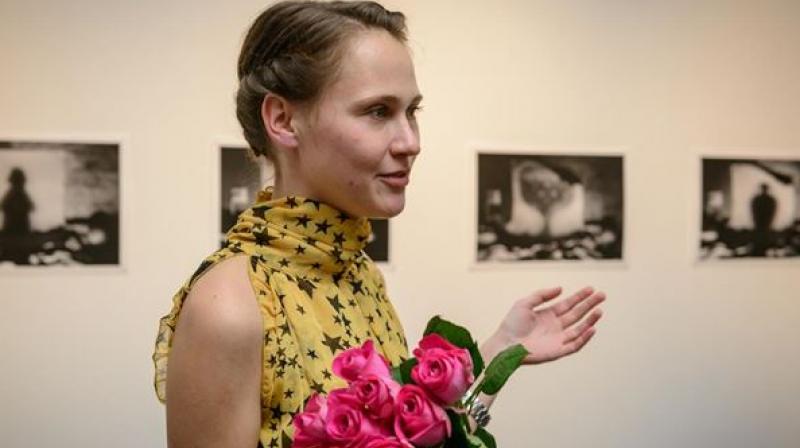 Michelangelo without his nudes! That's the dilemma Russian curator Yasha Yavorskaya faced when she put together the multimedia exposition, 'The Drifting Canvas', and was told to be cautious while choosing artists for an Indian audience. And that is why the ongoing exhibition at Select City Walk here does not have any works of Italian Michelangelo, or indeed nudes by 11 other artists, including Vincent van Gogh, Claude Monet, Paul Gauguin and Henri Rousseau.
The Drifting Canvas, Yavorskaya
Art culture in India, says Yavorskaya, is much more conservative than what is usually acceptable for art connoisseurs in Europe. The irony of this being the land of Kamasutra was not lost on anybody. "We have had heard about reports of protest against artists who showcase nudity in their artworks. So we thought of self-censorship and excluded some iconic works. For India, we made content without nudity," Yavorskaya told PTI.
For India, we made content without nudity: Yavorskaya
'The Drifting Canvas', that comes to Delhi after traveling to more than 12 countries, including China, Russia, Germany, Brazil, and Poland, showcases a unique amalgamation of technology and art with the glorious works of classic masters coming alive in a movie. A huge canopy welcomes art enthusiasts in the mall; 7,000 sq ft of panoramic screens project the essence of Western art. Featuring more than 1,000 animated paintings, the two-hour show is an exposition of the best of the masters.
'The Drifting Canvas' in Delhi
The 24 larger than life HD screens and neo-classical music in the movie transport spectators into an interactive and emotional space. Yavorskaya collected around 1,000 pictures which were composed into digital format while keeping in mind the exact compositions and colors of the originals. Later, they were converted into storyboards. The purpose was to educate people about iconic artists who have left their mark in the history. "These were original paintings which have been divided by our motion designer into layers and later they were put in a format to move with each other.
24 larger than life HD screens and neo-classical music in Media Hall
It took us nearly one year to complete the project. We have collected their works from different museums. "For me, it is an initiative to realize the importance of old art and creates a bridge that can educate and benefit new artists. Unfortunately, we do not know much about classic art," she says. Although there is not much information about the artworks in the movie, large-size manifestations talk vividly about the lives of painters like Van Gogh and Monet. Discussing what brought her to India, Yavorskaya says she wanted to bring art out of galleries.
Painter Claude Monet
"Art in its present form is restricted to galleries in India. Masses don't really go there. This exhibition helps bring art out of the galleries. The new and different format creates interest about art in youngsters and educates them about classical art as well." "Four years ago, when we decided to make this multimedia content, we tried to compose new technologies while combining it with classic art. We are trying to re-imagine the 19th and 20th century through this exposition.
Yavorskaya wanted to bring art out of galleries
"For me, the very first idea in the present scenario is that of the revolution of art and impressionists have played an important role in representing that," says Yavorskaya.  A joint initiative of Bengaluru-based art platform Esperienza and Russian art cluster ArtPlay, the exhibition has also been showcasing works by marquee Indian artists such as Anupam Sud, Paramjeet Singh, Arpana Caur, Biman B Das, Kanchan Chander, Kalicharan Gupta,  Ananda Moy Banerjee and Ram V Sutar.
The Drifting Canvas Art Exhibition In New Delhi Is Every Art Enthusiast's Dream Haven
"It is my first time here in India and I have been motivated to research about Indian art and do an exhibition back in Moscow. It will be an interesting experience for me as a curator. Indian art comes with a lot of cultural ideas which are different to European people," says Yavorskaya. 'The Drifting Canvas' will continue until June 15.