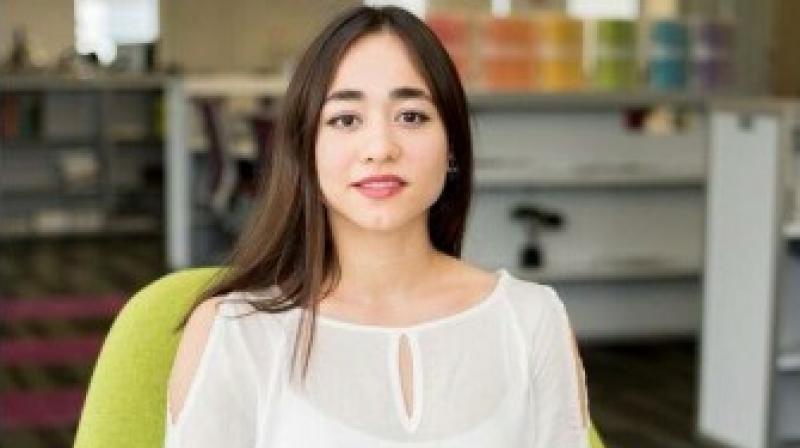 When Mexican artist Cynthia Mijares Rodriguez first visited Jaipur, she was blown away by the intricacies of the 'jaali', a perforated stone or latticed screen historically used as a purdah for women. But, the feminist in her refused to accept the regressive idea and the artist decided to give the architectural form a contemporary twist in the form of a chic clutch – "the only bit of a woman that needs to be hidden", she says. And, that is not all. Cynthia has made the clutch out of cement.
Latticed screen historically used as a purdah for women
How she transformed the dull, grey, coarse raw material that is dumped in sacks at construction sites to build skyscrapers into a fashionable clutch, she refuses to reveal the recipe. But her collection at the Craft Beton gallery at the ongoing Serendipity Arts Festival here speaks volumes for the potential cement has as a medium of art. From table lamps and bookshelves to wine racks and comfortable stools, the artist has cemented her imagination in a never-seen-before manner.
Serendipity Arts Festival
She is joined by another Mexican artist – Alan Saga and two Indian artists – Iti Tyagi and Somesh Singh, who have redefined the functionality of cement beyond mind's eye. Somesh, who has pushed all boundaries of creativity, with a laptop bag that folds and functions like any other rubber or a leather bag, says the objective was to break the prevailing notion that cement is not beautiful.
Iti Tyagi is the Founder of Craft Village
"People think cement is rough, hard and brittle. They think it will break if it is used for any purpose other than construction. That is what we wanted to change." He says he wanted to make cement attractive. "My philosophy of design is if it is not serving a purpose, then it is not a design. The design is a function of art and absolute functionality," he adds. His works include a fruit basket – made out of cement with a wooden finish, a snail lamp with a shell that appears to be plastic, a bar stool, and several others.
Artist Somesh Singh
One thing that runs common is all objects d'art is that they defy the conventional properties associated with cement – its heavy weight, ruggedness, and rigidity. Speaking of fluidity, Iti's center-table is one of the finest examples of how cement is capable of falling like a drape. With a pair of leather boots visible from just beneath the hemline, it simply stands out in the lot. "Cement expresses my personality.
Sherlock Holmes and John Watson
It looks very difficult, but it is pretty smooth to handle. You have to deal with it with a lot of care, a lot of delicacies, lot of pampering and when you have done it right, it comes out beautifully," Iti says. A fan of all things mysterious, two of her stools are dedicated to her favorite detectives – Sherlock Holmes and John Watson. A barbeque stool with a cushion – that actually feels as soft as a cushion, a Dali clock inspired from the Spanish painter's iconic work – "The Persistence of Memory".
The Persistence of Memory
An elegant glass set done in the traditional Japanese view of Wabi Sabi is among other artworks in her collection. Bringing the cultural flavor from his homeland is Alan, who is paying tribute to the folk dances of Mexico with a pair of wall lamps. Effortlessly cut-out in the shape of skirts, the lamps are fitted with lights underneath, similar to the outfits of the dancers, illuminating the entire wall behind. He says he turns to objects of historical relevance for inspiration.
The traditional Japanese view of Wabi Sabi
A spice rack based on the Taj Mahal, a mirror inspired from the Greek mythological story of Medusa, and fruit tray replicating the Pyramids of Mexico find a place in his collection. "Every product is not just beautiful, but a story in itself. I found the Taj Mahal very striking and India is known for its spices, so I decided to put the two together," he says. Alan has also created stunning and elegant jewelry sets out of cement. Taking inspiration from the logo of the 1968 Olympics held in Mexico, is a pendant, a ring and a pair of earrings.
Dalmia Bharat organized Craft Beton Series
Organised by Dalmia Bharat, the exhibition is the second in the Craft Beton series, with the latest collection showcasing 48 high-end luxury products - ranging from lifestyle, jewelry to home accents and furniture. The exhibition will next move to Mumbai and will be held at the Indian School of Design and Innovation from January 12 -14, followed by a show at the Bikaner House in Delhi from January 29–31.