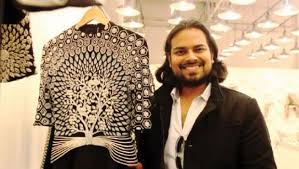 Mumbai: Celebrated fashion designer Rahul Mishra ditched his no star policy for Lakme/Fashion Week Winter Festive 2017 collection. Mishra, who has always let his clothes speak for him, had Shraddha Kapoor as his muse for 'Rahul Mishra for Project Eve' collection titled "The Bird Song".   
"It is just about being a right fit. We had few other names to walk for our show, because Project Eve wants to reach out to the larger audience with amazing price points and obviously Bollywood is the strongest face to have," Mishra said about roping in a celebrity face this time.   
The Delhi-based designer said he was not sure if he would collaborate with a Bollywood star again but would love to work with Shraddha in future. Mishra, who has been a regular at Paris Fashion Week, added, "Across the globe there is a strong connect between celebrities in fashion. Using showstopper is one of a beautiful thing.   "I feel as a brand we are evolving every day. Today, what I feel right I will do tomorrow what I will feel right I will do. There is nothing like a dogma or a rigid ideology. Rigidity is opposite of designing. It is all about doing something which you have not done before."  
Shraddha looked stunning as she glided down the ramp in a gorgeous embellished monsoon crane lehenga with hand embroidered muga silk magenta blouse and the superbly crafted chintz, scalloped, dupatta. The 30-year-old star said it was an honour to walk for Mishra and all her friends and family members were excited about it.   "For a designer who never keeps a showstopper and if he chooses me it is a honour for me. And it shows that he is true to his craft," she said.   
For the collection, Mishra stayed true to his roots using textiles such as chanderis, maheshwaris and banarasi. The designer wanted to create clothes which were light and easy to wear, and his choice of fabrics did complete justice to his vision.   
All the lehengas, kurtas and duppattas were adorned by floral motifs with hints of Mughal architectural inspirations. While the collection was predominantly festive India, Rahul brought in two gowns to cater to the western dresser. The swirling anarkalis, kurtas - some with backless silhouettes, the kirkita palazzos, kamal jaal lehengas and the beautifully scalloped dupattas were the new experiments for the designer.   
The colour card included shades of pretty pastels that moved into festive hues of fuchsia, orange, red and then onto dramatic black and white. Project Eve is a retail chain from Reliance Retail aimed at the 25-40 years old fashionistas. PTI