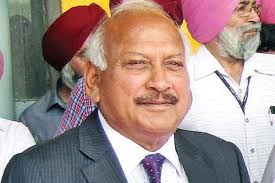 Chandigarh: The Punjab Government today, launched a state wide awareness campaign to prevent swine flu cases. This campaign would be carried out at district and block level across the state.

Disclosing this here today, Health and Family Welfare Minister Brahm Mohindra said that keeping in the view, to control the swine flu and other vector-borne diseases, the Punjab Government has launched state wide awareness crusade to tackle the spread of any type of vector borne diseases. 
He said that all the all officials of the department have been directed to step up the awareness activities for prevention of spread of the disease from one person to another. He said that orders regarding this awareness campaign have been passed to all the government officials of the health department at district and block level to make people aware about the vector borne diseases and prevention measures from these diseases.  
The Minister said that all the Government hospitals have geared up the capacity to screen the influenza like illnesses at the earliest, so that the morbidity and mortality could be decreased due to Swine Flu.
Mohindra said that state authorities have rapidly conducted the meeting with district epidemiologist officers and members of Indian Medical Association in which causes and preventive measures of swine flu were discussed. 'It was also decided that the IMA (Indian Medical Association) would go ahead with a joint venture with state government to prevent spreading of this disease', added Mohindra.
Mohindra said that presently, swine flu cases were being reported in Maharashtra, Gujarat, Karnataka, Rajasthan and Telangana in large numbers which may increase in winters. He said that as per the advisory the Punjab health department has taken all necessary steps to tackle any emergency situation. 
He said that precautionary measures to decrease morbidity and mortality of swine flu were being taken and awareness campaign is also launched. He said that the concerned officials & doctors have been advised to have adequate epidemiological surveillance, organize training/sensitisation workshops at all levels along with IEC campaigns and timely vaccination of health care workers.
Giving details of preparedness for swine flu, Health Minister said that Logistics like medicines, Oseltamivir, VTM bottles and masks were made available in sufficient quantity at State Head Quarter and District level. These are being provided to patients, medical and paramedical staff and contacts of patients free of cost.
Mohindra appealed the general public not to panic but get treated at earliest from a specialists in the government hospitals to prevent complications arising as an outcome of this disease.