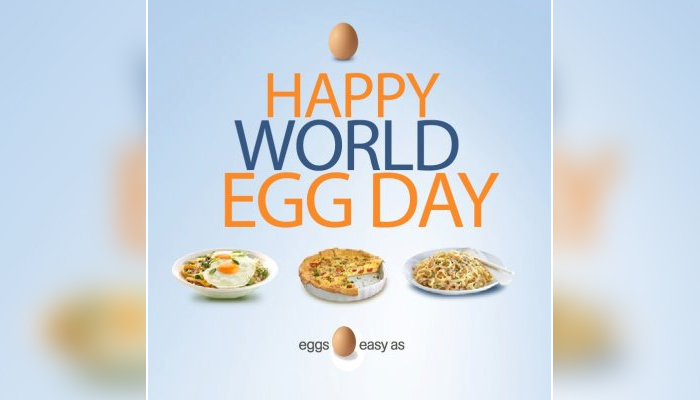 World egg day was established at the IEC Vienna 1996 conference when it was decided to celebrate World Egg Day on the second Friday in October each year. 
For centuries, eggs have played a major role in feeding families around the globe. They are an unbeatable package when it comes to versatility and top-quality protein at a very affordable price. And they are also an excellent source of choline, essential in memory and brain development. When you factor in convenience and terrific taste, there is just no competition.
Eggs are one of nature's highest quality sources of protein, and indeed contain many of the key ingredients for life. The proteins contained within eggs are highly important in the development of the brain and muscles and have a key role to play in disease prevention and contribute to general well being.
Many countries are planning to celebrate World Egg Day 2017 like Australia are planning a substantive PR campaign around World Egg Day, using an analogy between the national obsession of sporting rivalry and per capita egg consumption to encourage Australians to push a bit harder to out-perform other countries. 
Vietnam is celebrating World Egg Day for the 5th consecutive year with fun filled children's activities such as egg shell painting, face painting, balloon blowing and food tasting, all taking place during the Tay Ho Weekend Market in Hanoi.

Romania are celebrating this year with school campaigns across the country, providing school children and teachers with information on eggs, alongside the health and nutrition-related benefits of eggs. 
In the USA the American Egg Board are organizing many activities to celebrate World Egg Day, these include online marketing campaigns 'Egg Recipes from Around the World' – providing delicious egg recipes to help you enjoy cooking up ethnically inspired flavors from places near and far, as well as running an egg-inspiring quiz.

Our Indian are celebrating with the distribution of 2600 boiled eggs to six schools across the Jalgaon district,  in Pune. They are hosting an exciting programme with school children, government officials and industry representatives joining together to celebrate World Egg Day.

Nowadays, World Egg Day has become a more recognised global event to mark in the calendar, to promote all the goodness and value that the egg has to offer. Celebrations were arranged to take the opportunity to announce the egg as the wonderfully natural and nutritious product that it is.