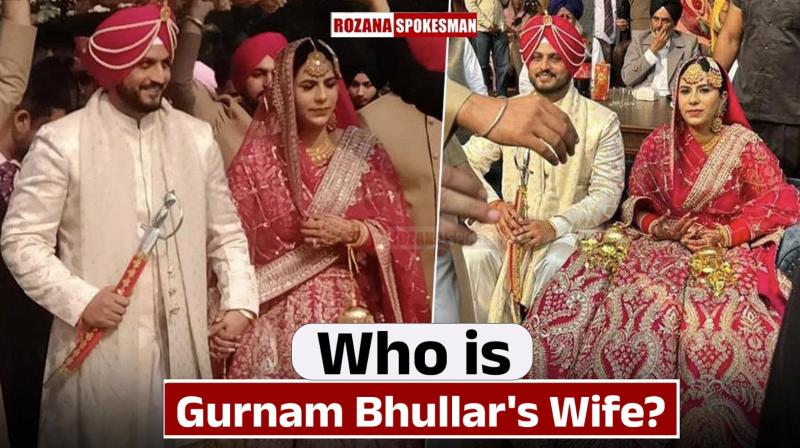 Who is Gurnam Bhullar's Wife: Latest Pollywood News
Wedding Ceremony witnessed the presence of Punjabi singer Harbhajan Maan
Who is Gurnam Bhullar's Wife: Renowned Punjabi singer and actor Gurnam Bhullar has tied the knot, as glimpses of the artist dressed in groom attire surfaced on social media. Despite no official confirmation from the singer himself, the images suggest that this is not part of any film shoot. The wedding ceremony witnessed the presence of Punjabi singer Harbhajan Maan, adding an extra touch of grandeur to the celebration.
Who is Gurnam Bhullar's Wife? 
The Mystery surrounding Gurnam Bhullar's marital status has been unveiled, and the lucky lady is identified as Dr. Balpreet Kaur. Hailing from Moga, Gurnam Bhullar's wife is a 23-year-old pursuing a degree in MBBS. Described as tall and beautiful, Dr. Balpreet Kaur complements the singer's charismatic persona.
Gurnam Bhullar, a big name in the Punjabi music industry, needs no introduction. With a string of chart-topping songs and albums, the singer has made an indelible mark in the music scene. Recently, a video of the singer's engagement went viral on social media, creating a buzz among fans. Now, with wedding pictures and videos surfacing online, the couple is receiving heartfelt congratulations from their admirers. Fans of the Punjabi sensation are expressing their joy through comments on the viral content, celebrating the union of Gurnam Bhullar and Dr. Balpreet Kaur. 
(For More News Apart from Who is Gurnam Bhullar's Wife Latest News, Stay Tuned to Rozana Spokesman)