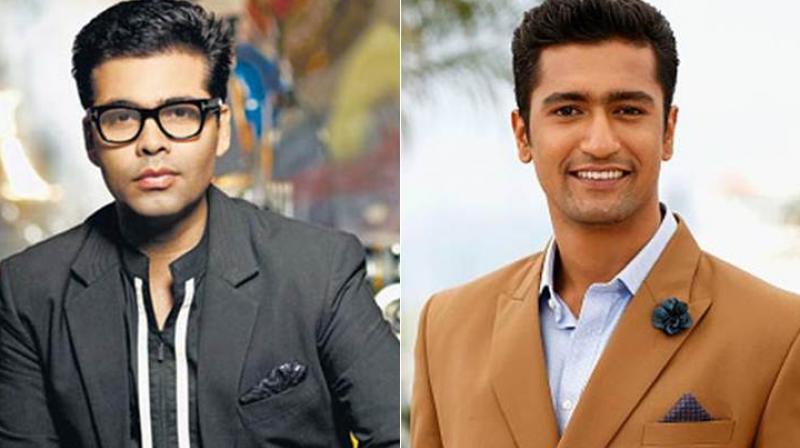 Vicky Kaushal and Karan Johar
Mumbai: Vicky Kaushal is excited for the release of his upcoming film "Raazi" and says it was always his dream to work with filmmaker Karan Johar.       
The 29-year-old actor will be seen opposite Alia Bhatt in Karan's home production "Raazi". He will also be seen in the director's segment in the sequel to 2013 Indian anthology film "Bombay Talkies", alongside Kiara Advani and Neha Dhupia.
Vicky Kaushal
"It was always a dream to work with a person like him (Karan) and it feels great when a filmmaker like him casts you in his films. When you get an opportunity to work in good films like 'Raazi', it boosts your confidence to know that good filmmakers are willing to work with you," Vicky told reporters here at an event.     
"Raazi", a film adaptation of Harinder Sikka's novel "Calling Sehmat", is about an Indian spy (Alia) married to a Pakistani military officer (Vicky) during the Indo-Pak War of 1971. Directed by Meghna Gulzar, the film will release on May 11. Vicky was speaking at the 19th edition of the International Indian Film Academy (IIFA) Awards voting weekend yesterday.   
 His other two releases this year would be Rajkumar Hirani's "Sanju" and Anurag Kashyap-directed "Manmarziyaan".      Recently, the teaser of "Sanju" featuring Ranbir Kapoor in and as Sanjay Dutt was unveiled. Vicky said the team is elated with the response. "We got 30 million hits for the teaser and it is trending in India, the US and other countries. I was with Raju sir yesterday for dubbing (of the film) and we all very excited.     
Vicky Kaushal and Alia Bhatt
"It is a special story of a special person. I can't talk about the film and my role at the moment. Once the trailer is out, you will see other actors as well," he said. The actor also said the shoot of "Manmarziyaan" is complete. "We were shooting for two months in Amritsar and Kashmir. The editing is on and the film will release on September 7," he added.   
When asked if he thinks 2018 is going to be his best year, Vicky said, he has kept his fingers crossed. The actor is happy to be a part of IIFA for the second time. "My favourite memory of IIFA is when I received an award for best debut actor for 'Masaan' in 2016," he said. Neha and Riteish Deshmukh were also present at the event.     
"What makes IIFA special is that almost everyone from the film industry comes under one roof and the fact that it has always tried to take Indian cinema and culture abroad," Riteish said. He will be seen next in Sajid Khan's "Housefull 4", but he was unwilling to share details about the film.     
Riteish Deshmukh
When asked if the film is being made in 3D this time, Riteish said, "I think producer Sajid Nandiadwala and director Sajid Khan are the right people to talk about it. There are lot of exciting and new things happening. We are happy about it." Though Neha is ecstatic about being part of IIFA, the actor said she is nervous about walking the green carpet.     
"I love clothes. I prefer wearing something that is comfortable. Mix your sensibility with clothes and comfort as one has to watch the function for about a few hours," she added. When asked about the casting couch controversy, Neha refused to comment.