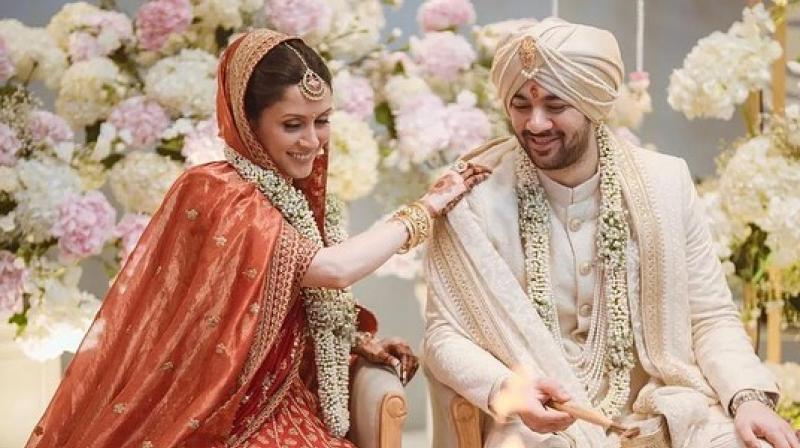 Karan Deol & Drisha Acharya
Legendary Dharmendra's Bhangra Performance Lights up Wedding Celebrations
MUMBAI: In a spectacular celebration of love and togetherness, the charming couple Karan Deol and Drisha Acharya recently exchanged vows, officially tying the knot. The wedding ceremony, held in the presence of close family and friends, was nothing short of a fairytale affair. The star-studded event took place at a luxurious venue. Karan Deol, the son of renowned actor Sunny Deol, looked resplendent in a traditional ensemble, while Drisha Acharya, a talented and beautiful actress, radiated elegance in her intricately designed bridal attire. The couple's chemistry and infectious smiles illuminated the entire venue, leaving everyone mesmerized.
The highlight of the evening came when the legendary Dharmendra, Karan's beloved grandfather and veteran Bollywood actor, took to the dance floor, captivating the guests with his Bhangra performance. The sight of the esteemed actor showcasing his infectious energy and moves left everyone in awe. The wedding ceremony was a seamless blend of traditional rituals and contemporary elements. 
As news of the star-studded wedding spread like wildfire, fans and well-wishers flooded social media with congratulatory messages and warm wishes for the newlyweds. Many expressed their admiration for the couple's undeniable chemistry and their families' illustrious contributions to the Indian film industry.