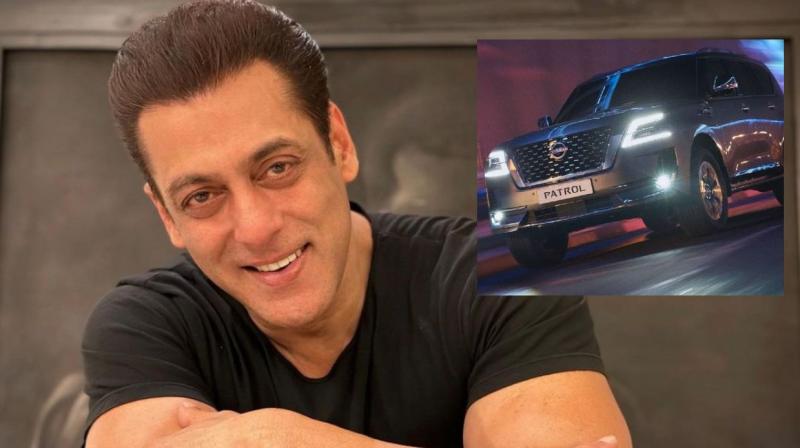 Salman Khan Buys New Bulletproof Car
This SUV is one of the most expensive vehicles in the South Asian market
MUMBAI: Amidst receiving constant death threats, Bollywood Star Salman Khan has bought the most expensive 'Nissan Patrol' bullet proof vehicle of the 'Nissan' company. Bhaijaan has taken this big decision after receiving a death threat E-mail.
This SUV is one of the most expensive vehicles in the South Asian market. It has been ordered from abroad. Currently, the car has not been launched in the Indian market. This has been considered as the most important decision of Salman Khan in terms of security./ 
It is worth mentioning here that the threat Email received by Bollywood Superstar Salman Khan was sent by Notorious gangster Goldy Brar, informed Mumbai police. The Cops said that they have sought the help of Interpol to investigate the case. Goldy's name came up first in the murder of Punjabi singer Sidhu Moose Wala. According to the Mumbai Police, they suspect that Goldy is hiding in the UK.
Mumbai Police has also written to the UK government to collect more information in connection with the case. On March 19, Salman Khan's manager Jordy Patel received a threatening email. The jailed gangster Lawrence Bishnoi had also threatened Salman Khan through an interview a few days ago. Salman's close friend Prashant Gunjalkar also filed a complaint in this regard at the Bandra police station.
Notably, While Gunjalkar was in Khan's office at Galaxy Apartments on Saturday afternoon, he saw an e-mail from the ID of 'Rohit Garg', the official said, quoting the FIR. The e-mail was written in Hindi. It read, "Salman Khan must have seen an interview given by Lawrence to a news channel and if he hasn't, he should watch it."
According to the FIR, the e-mail read, "If Khan wanted to end the matter, he should sit down and talk to Goldy Brar face to face. I Informed you on time. Next time, you will get to see the blow." Notably, The FIR has been registered under sections 120-B (criminal conspiracy), 506-2 (punishment for criminal threat) and 34 (common intention) of the Indian Penal Code.
Earlier, In a interview, Notorious Gangster Lawrence Bishnoi hit out at Bollywood star Salman Khan. He alleged that the superstar had hurt the sentiments of his community by shooting a blackbuck. In a interaction with a journalist (Private News Channel), Lawrence said, "There is anger and disappointment in our society for Salman Khan. He humiliated my society. A case was filed against him but he did not apologise. If he does not tender an apology, be ready to face the consequences. I will not depend on anyone else."
Bishnoi further said, "Since Childhood, there is a lot of anger in my mind for him. Will break his ego sooner or later. He should come to our temple and apologise. If our society forgives him, then I will not say anything."
The police had registered a case against Lawrence Bishnoi, Goldy Brar and Rohit Garg under sections 506 (2), 120 (b) and 34 of the IPC. Ever since the threat was received, police security has been beefed up outside Salman's residence in Mumbai. According to reports, Salman and his team have been asked to avoid on-ground programs for the next few days. Considering the threat to Salman's life, the police administration has also recommended a change in his schedule.
It is worth mentioning here that, Lawrence Bishnoi is currently lodged in central jail Bathinda. He has given an interview to a Private News Channel through video calling. The interview was telecast 'live' on Tuesday evening (March 14).
First Threat to Salman Khan.....
In 2022, a threat letter was found outside Salman Khan's house which read, "Moosewala jaisa kar doonga (You will suffer the same as Moosewala)." The note was allegedly sent by the members of the Lawrence Bishnoi gang. After the incident, the Maharashtra government had given Y+ security cover to Salman Khan. He was also issued a arm license for self-defence by the Mumbai Police.