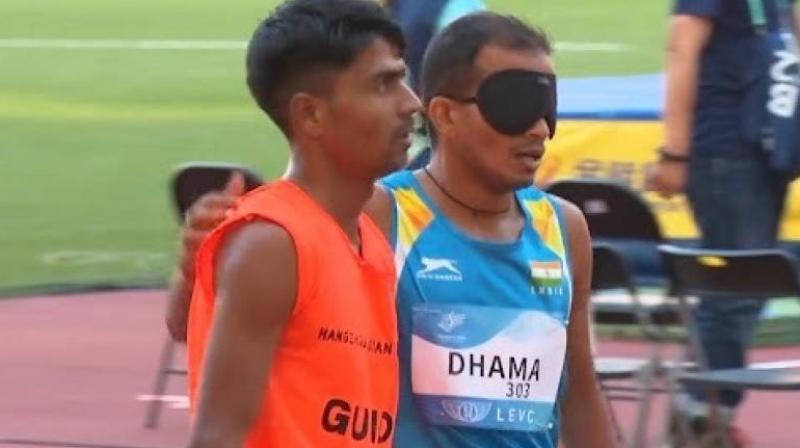 Asian Para Games 2023
Asian Para Games 2023: Para-athlete Ankur Dhama Shines, Securing India's 12th Gold Medal in an Impressive Display of Talent
Asian Para Games 2023: Indian para-athlete Ankur Dhama has brought glory to the nation, clinching the gold medal in the men's 1500m T-11 event at the Asian Para Games 2023. The remarkable achievement adds to India's medal tally, currently ranking them sixth overall with a total of 48 medals, including 12 gold, 16 silver, and 20 bronze.
Ankur Dhama, a 29-year-old hailing from Khekra town in Baghpat, Uttar Pradesh, is no stranger to success. His journey, marked by determination and resilience, has been an inspiration to many. Despite losing his eyesight in childhood, Dhama has consistently defied the odds to reach the pinnacle of para-athletics.
Ankur Dhama's gold medal win in the men's 1500m T-11 event is a testament to his unwavering dedication and unwavering spirit. Prior to this remarkable achievement, Dhama had already etched his name in the annals of Indian sports history by clinching the gold in the men's 5000m T-11 final.  The para-athlete is not only a source of inspiration to sports enthusiasts but has also received the prestigious Arjuna Award for his exceptional contributions to para-athletics. He is a trailblazer in every sense, as he became the first blind athlete from India to compete in the 2016 Rio Paralympics.
With Ankur Dhama's recent gold medal win, India's medal tally at the 2023 Asian Para Games now stands at 12 gold, 16 silver, and 20 bronze medals. The Indian contingent continues to impress on the international stage, showcasing the immense talent and resilience of para-athletes who refuse to let challenges define their limits.
(For more latest news apart from Asian Para Games 2023, stay tuned to Rozana Spokesman)