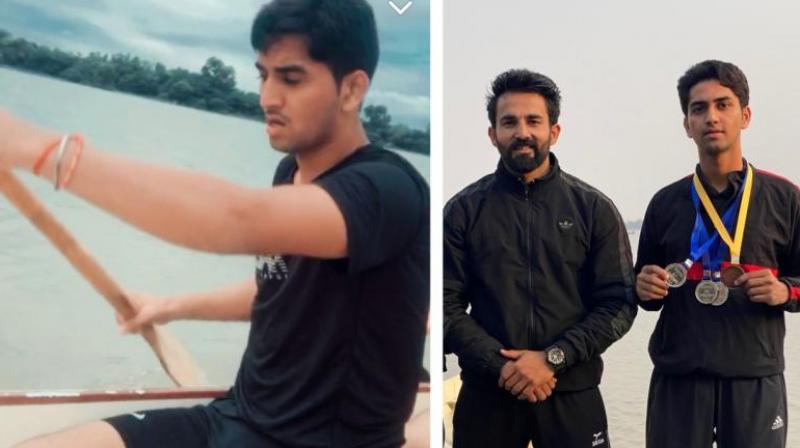 National Dragon Boat Championship
Senior Player Jaganbir Singh Bajwa bagged 5 Medals
CHANDIGARH: The 11th Senior National Dragon Boat Championship was held in Udupi, Karnataka, in which athletes from different states participated. A total of 13 medals have been clinched by Punjab in this competition, out of which senior player Jaganbir Singh Bajwa bagged five medals.
According to the information, talented athlete Jaganbir Singh Bajwa has won four silver and one bronze medal in D-10 Men 200m, D-10 Men 500m, D-20 Men 500m and D-20 Mix 500m.
Notably, Jaganbir Singh Bajwa is a student of SD College, Chandigarh and is constantly participating in water sports championships. Coach Ravinder Singh said that Punjab players performed very well in the 11th Senior National Dragon Boat Championship. 
Reacting to this, Sports Minister Gurmeet Singh Meet Hayer extended congratulations to everyone on the achievement of the Punjabi players. He said that the Punjab government is continuously promoting sports. With the promotion and development of major sports of Punjab like Kabaddi, Hockey, athletics, the state government is also making a policy to promote water sports.
The 11th national dragon boat championship commenced in Udupi for four days with about 700 participants from 15 States to participate.Organised by the Udupi district administration, in association with the Indian Kayaking and Canoeing Association, the competitions were held on the Swarna near Heroor in Udupi. Selected players in this championship will be eligible to participate in Asian Games to be held in September/October, 2023. The 10th national dragon boat championship was held in Bhopal 2022.
For the Competition, the boats were designed to look like a dragon's head, while the rear is carved to look like a tail. In this sports event, 22 persons sit on the boat, while the rest of the team works the oars and one person sitting in the front will beat a drum to guide them on and a coxswain steers the boat.
About Dragon Boat Racing.....
Dragon boat Racing is a water sports activity. Teams compete in Dragon Boats, which are large canoe-like vessels fitted with ornately carved dragon's heads and tails. Crews of up to 16 people sit in pairs and paddle to compete in races over distances of around 250 m or as per the rules of the competition. Each boat has a drummer beating time to keep the paddlers in unison, and a professional helms person in the stern to guide the boat. As per safety concern, a Minimum age of 12 years old is observed to be a part of this sports but apart from this, if you can hold a paddle and sit in a boat you can take part. 
Dragon Boat Racing is now the fastest growing water sport in the world and a favourite among youth. It originated from China.  It commenced more than 2000 years ago on the banks of the life-sustaining rivers in the valleys of southern China as a fertility ritual thought to bring good luck to the upcoming crop season.