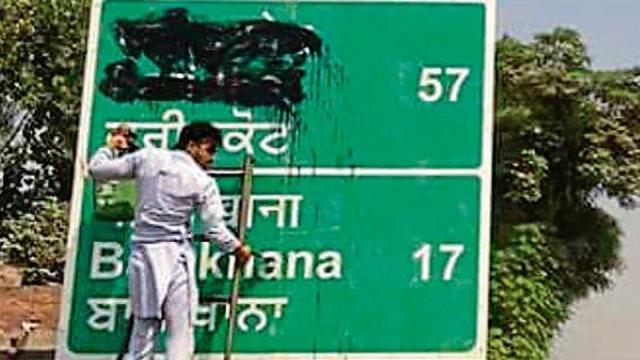 Punjabi language must be given priority on signboards in Punjab
The signboards in Punjab language have been written in three languages but Punjabi comes on third number despite the fact that the state has Punjabi speaking people.
When the activists of Dal Khalsa, SAD (Amritsar), BKU (Krantikari) and Malwa Youth Federation along with other organizations blurred with black color the signboards written in Hindi and English, they were termed as Sikh radicals.
The activists smudged the signboards at Bathinda – Faridkot road and they were demanding the Punjabi language should be written on the signboards on priority.
Activists of the organisations had launched a campaign to written the signboards with Punjabi language on the top as the language has been written on the third number.
The activists have been demanding the Punjabi language on top priority since long time and even a delegation had met the Deputy Commissioner of Bathinda this month. When they didn't see any response of the authorities, they didn't have any option except smudging the signboards written in English and Hindi language.
Even the activists were stopped by the police and finally, they stopped after getting the assurance from the authorities. There is nothing illegal asking for the top priority of the mother tongue Punjabi as every Punjabi wants that his or her language should be on the top priority.
In other states, the signboards have written in their mother language on the top but in Punjab, the Punjabi language comes on third. Why the authorities have been neglecting the demand when the state has Punjabi speaking population?
Terming the activists as radicals is wrong as they are the citizens of Punjab and not outsiders. In European countries, the mother language comes on the first priority and then comes the English.
In Russia, the president Vladimir Putin boldly speaks Russian with the foreign dignitaries. Putin don't hesitate to speak in Russian in front of the foreign diplomats.
Then why the authorities of Punjab have been neglecting the mother language of the state. Baljeet Singh Khalsa, a Sikh activist had started smudging the signboards in Sahibzada Ajit Singh Nagar few years back as he was demanding the Punjabi language should be written on the signboards only.
Pandit Rao Dharennavar, who hails from Karnataka has been fighting for the Punjabi language in Punjab. Interestingly, the Dharennavar studied Punjabi language and he has been continuously fighting for the demand.
When a person from other state passionatonly studied Punjabi and demanding the language on the top priority, then why the authorities have been reluctant to accept the demand.
The senior vice-president of Dal Khalsa, Hardeep Singh said, �In Punjab, Punjabi must be given priority. We respect all the languages but in Punjab we have the right that our mother tongue should be on the top priority.�
The organization has given the ultimatum to the authorities that if the authorities won't listen their demands, they the organization would start the statewide agitation.