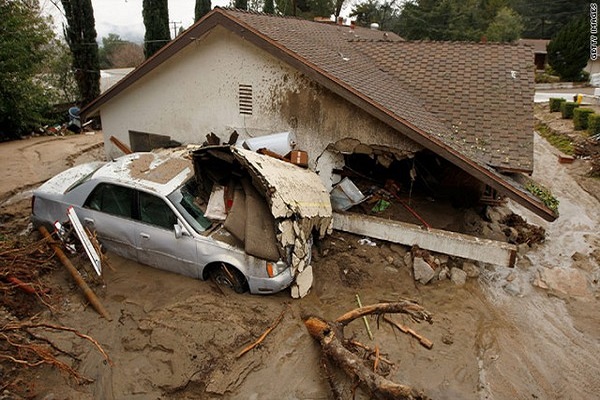 Montecito (US): Authorities now say 17 people have died in Southern California mudslides and another 17 are missing. The death toll rose yesterday as searchers pulled two more bodies from the inundated area in the Santa Barbara County enclave of Montecito. 
Flash floods there on Tuesday swept immense amounts of mud, water and debris down from foothills that were stripped of brush by the recent Thomas wildfire. Authorities say at least 100 homes have been destroyed. Hundreds of firefighters and others are hunting through the mud and wreckage. 
Three people were rescued Wednesday and authorities say about 75 per cent of the devastated area has been searched. California's main north-south coastal highway will remain closed until at least Monday after a storm caused deadly mudslides in fire-scarred areas of Montecito and adjacent Santa Barbara County. 
The California Department of Transportation says some 30 miles of southbound Interstate 101 will remain shut while crews clear mud, water and debris that swamped entire sections of the road on Tuesday. The road is closed from Milpas Street in Santa Barbara at the north end to the junction with State Route 126 in Ventura. 
About 12 miles of northbound lanes between Carpinteria and Santa Barbara also remain closed. The road is in an area where rescuers are searching for people who may have been trapped. 
At least 100 homes were destroyed and 15 people killed. California authorities say 100 single-family homes were destroyed in the flash-floods that struck the coastal enclave of Montecito and adjacent areas of Santa Barbara County. 
A county statement Wednesday says an additional 300 homes were damaged. Eight commercial properties were also destroyed and 20 were damaged. The death toll remains at 15, with 24 people missing. Twenty-eight injuries have been reported. 
The flash-floods struck in the early morning hours Tuesday when a huge amount of rain fell in a few minutes on hills and mountain slopes stripped bare last month by the largest wildfire in recorded California history. The fire destroyed more than 1,000 structures.