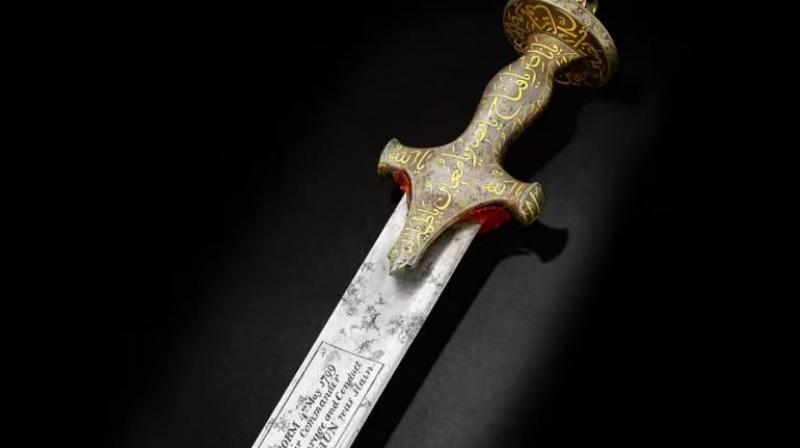 Tipu Sultan's Sword
Tipu Sultan's Sword has become the costliest Indian object ever sold
BRITAIN: The sword of Tipu Sultan, the ruler of Mysore, was sold at an auction in London for £14 million (about Rs 140 crore). Bonhams, which organized the auction, said the sword sold for "much more price than expected". Tipu Sultan's sword has become the costliest Indian object ever sold, breaking all auction records.
According to the information, this sword was recovered from the private room of the palace. This sword was the favorite weapon of Tipu Sultan. The sword of Tipu Sultan, who ruled from 1782 to 1799, is called 'Sukhela' which means a symbol of power. This sword is made of steel and exquisitely engraved with gold. It was found in Tipu Sultan's private chamber and was presented by the East India Company to General David Baird as a token of his courage and honor in the attack. Tipu Sultan who is called 'Tiger of Mysore' died in the attack which took place in May 1799.
Oliver White, head of Islamic and Indian art and auctioneers at Bonhams, said in a statement ahead of the sale on Tuesday that the magnificent sword is the finest of all Tipu Sultan's weapons. He said that the Sultan had a deep personal connection with it and its exquisite craftsmanship makes it unique. The sword cost between GBP 1,500,000 and 2,000,000 but sold for an estimated 14,080,900.
Nima Sagharchi, group head of Islamic and Indian art, said the sword has an extraordinary history and exceptional workmanship. He stated that there was a fierce competition between two persons in bidding. In May 1799, after the destruction of Tipu Sultan's royal fort at Srirangapatna, many weapons were removed from his palace. In this some weapons were very close to him.