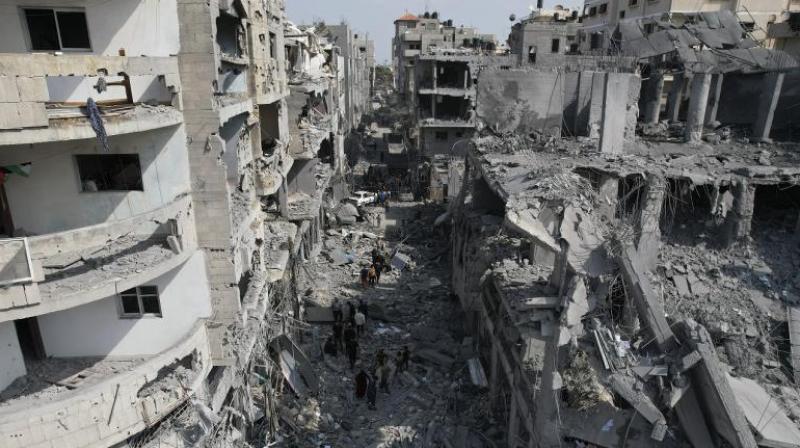 Israeli Airstrikes
Growing Humanitarian Crisis Amidst Ongoing Conflict
GAZA: In a rapidly escalating situation, Israeli airstrikes have hit multiple locations, including Gaza, Syria, and the West Bank, raising concerns of a broader conflict.
Israeli warplanes conducted airstrikes overnight and into Sunday, targeting Syrian airports and a mosque in the West Bank being used by militants. These actions come in the midst of a two-week war against Hamas, which now threatens to extend to other fronts.
Aid workers report that little relief has reached Gaza, where over half of the 2.3 million population has fled their homes. Hospitals are overwhelmed, with shortages of medical supplies and fuel for generators. Medical professionals are facing dire circumstances, including performing surgery without proper equipment. The humanitarian situation in Gaza continues to deteriorate.
Israeli military movements indicate preparations for a ground attack in Gaza in response to a surprise attack by Hamas on October 7. Tanks and thousands of soldiers have been deployed to the border. Despite evacuation orders, thousands of Palestinians remain in northern Gaza, complicating any ground offensive. The risk of a full-scale war with Hamas allies in Lebanon and Syria looms large.
Israel has been shelling the positions of Hezbollah in Lebanon almost daily, raising tensions. In the Israeli-occupied West Bank, the military has been conducting searches for militants in refugee camps and carrying out airstrikes. Hezbollah reports the highest daily casualties in weeks
In UN-run schools and camps, Palestinians are grappling with food shortages and contaminated water. With the region's sole power plant shut down, access to electricity, water, and basic supplies has been disrupted. The UN human rights agency reports an increase in cases of smallpox and diarrhea due to the lack of clean water.
Israeli Prime Minister Benjamin Netanyahu convened a cabinet meeting to discuss the impending ground attack, as the army plans to intensify airstrikes in preparation for the "next phase of the war." The fear of increased casualties on both sides remains, with over 1,400 casualties in Israel and more than 4,300 in Gaza. Palestinian territories are enduring immense suffering, and the situation shows no signs of immediate improvement.