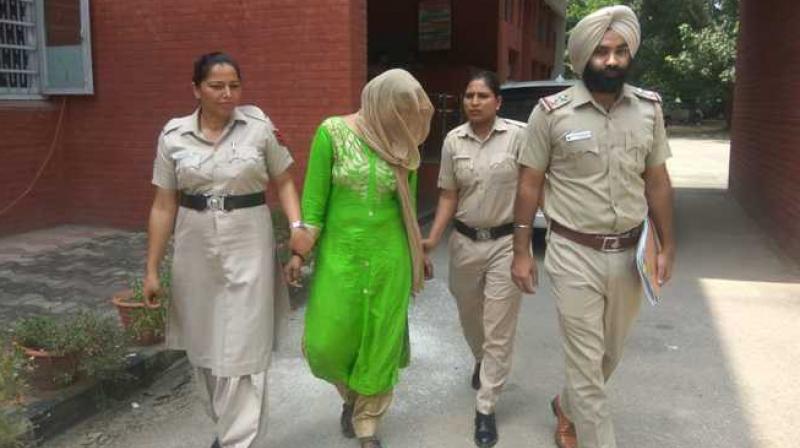 Poonam, a drug peddler was arrested by Chandigarh Police with 200 banned injections, 270 gm heroin and an amount of Rs. 6 lakh was also recovered. Poonam is also known as "Bhabhi" in Chandigarh and neighbouring states. She had a huge drug nexus and in Chandigarh several cases registered against her. Poonam was arrested by a team under the supervision of Rajdeep Singh, SHO of the Sector 39 police station, on Tuesday. Sources said the contraband seized from the woman was worth over Rs 15 lakh.
The 33-year-old drug peddler enjoyed a luxurious lifestyle and owns a house in Sector 40 and used costly cell phones. Poonam had accumulated a lot of wealth in the past few years. "She enjoyed an affluent lifestyle. It is an open secret that she used to sell drugs in the city," said one of her neighbours. People residing in the area said Poonam used her children as carriers to supply drugs. "Her children were frequently seen handing over packets to people who used to visit the house to buy drugs," said another neighbour.
The UT police had booked Poonam in several cases, including theft, burglary, rioting, snatching and under the NDPS Act. In three cases, she was acquitted. Poonam's husband Sikander is in jail in an NDPS case. Sikander had at least six cases registered against him in the past. Poonam's sister Nirmala was also arrested by the Chandigarh Police in July this year with 30 gm of heroin and 30 banned injections. Nimmo was arrested by a team of the Maloya police. "Poonam and her husband's name figures on the list of bad characters prepared by the Chandigarh Police," said a police source.