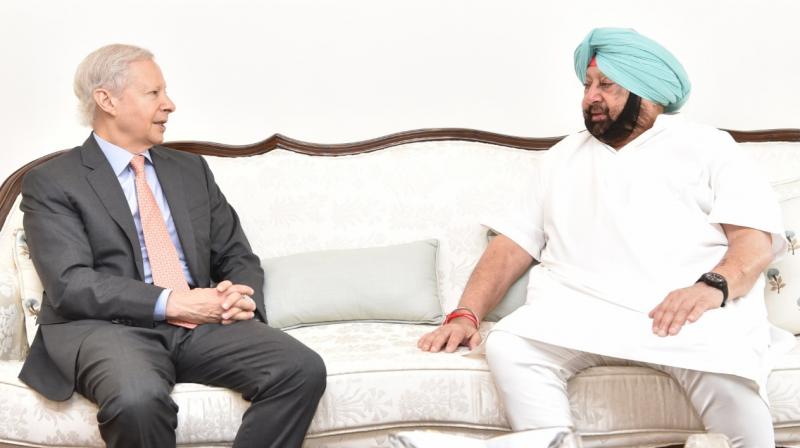 Punjab Chief Minister Captain Amarinder Singh on Wednesday favored privatization as a tool for development, saying the state's new industrialization and business policy was playing a key role in bringing in private investment, with a whopping Rs.20,000 crore already committed by investors since his government took over. Talking to US Ambassador Kenneth Ian Juster, who called on him this afternoon, the Chief Minister agreed with the former on the need to empower the private sector and have them fulfill their CSR responsibilities. Punjab's new industrial policy, said Captain Amarinder Singh, was structured towards this end.
The Chief Minister told the visiting delegate that as the State Agriculture Minister way back in 1985, he had prevailed upon the PepsiCo, an American multinational food, snack, and beverage company, to set up a potato chips plant in district Sangrur, which was probably the first ever MNC in Punjab. He said the new industrial policy was aimed at providing lucrative incentives and benefits to the investors and entrepreneurs who were keen to set up their ventures in the state. Captain Amarinder Singh expressed the confidence that Punjab would soon emerge as the most favoured investment destination in the country due to its investor friendly industrial policy, including uninterrupted power at Rs. 5 per unit for the industry, along with other incentives. He assured Juster that the state government would provide all possible support and cooperation to the American investors who wish to set up their industrial units in the state.

Congress was definitely set to gain as the BJP was fast losing ground: CM
Expectations of the people in Punjab were extremely high, and his government was committed to meeting them, said the Chief Minister, pointing out that the exodus of industry which the state had seen during the days of terrorism was now reversing. Asserting that his government had a great relationship with the Centre, which had been very helpful, the Chief Minister pointed to India's diversity to underline the importance of communal harmony. Extremism of any kind could not work here, he said, adding that his government had brought the Bill to make sacrilege offence punishable with life imprisonment to ensure this.
While the results of the 2019 parliamentary elections would depend on how alliances are stitched ahead of the polls, the Congress was definitely set to gain as the BJP was fast losing ground, Captain Amarinder Singh said. The Chief Minister pointed out that Punjab is predominantly an agrarian state having mere two percent of land but contributing over 40 percent of its share in country's food basket. "It is now the time for us to shift from agrarian economy to high-tech industry as our conventional agriculture has already reached a plateau," he said. Prominent amongst others who were present in the meeting were Media Advisor to Chief Minister Raveen Thukral, Chief Secretary Karan Avtar Singh, Chief Principal Secretary to Chief Minister Suresh Kumar and Special Principal Secretary to Chief Minister Gurkirat Kirpal Singh.