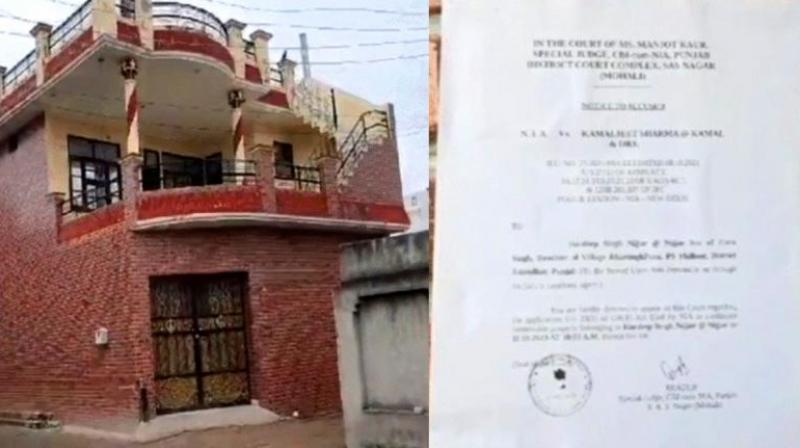 File Photo
Action Commences Following Joint State-Central Agencies Meeting 
JALANDHAR: In the wake of a crucial joint meeting between state and central agencies to address India's most-wanted gangsters and terrorists, actions have swiftly begun. A day after the significant meeting, efforts are underway to seal the property belonging to Garmkhaiyali Hardeep Singh Nijjar, from Bharsingpura village in Jalandhar, who was shot dead in Canada and held a prize of Rs 10 lakh on his head.
A formal notice has been affixed to Nijjar's residence, issued by the Special NIA cum CBI Court at Mohali. The notice indicates that the NIA has submitted a petition to seize Hardeep Singh Nijjar's immovable assets. In response to this development, relatives are granted the opportunity to present their case in the special NIA court in Mohali on October 11.
In line with the efforts to curb criminal activities, measures are being taken to attach the properties of terrorists and gangsters residing abroad, with Nijjar being a prime focus of this initiative. Hardeep Singh Nijjar had escaped to Canada in 1996 using a forged passport under the alias of Ravi Sharma. He falsely claimed in an affidavit that his family members had been arrested and tortured by the police, but this claim was ultimately rejected.
Nijjar, 45 years old, met a tragic end as he was fatally shot outside a Gurdwara in Surrey, British Columbia, Canada, on June 18, earlier this year. The incident has sparked significant controversy between India and Canada. Nijjar hailed from Bharsingpura village in Jalandhar district and had a long history of involvement in criminal activities. After moving to Canada in 1992, he never returned to his hometown. Eventually, his entire family also relocated to Canada three years ago.