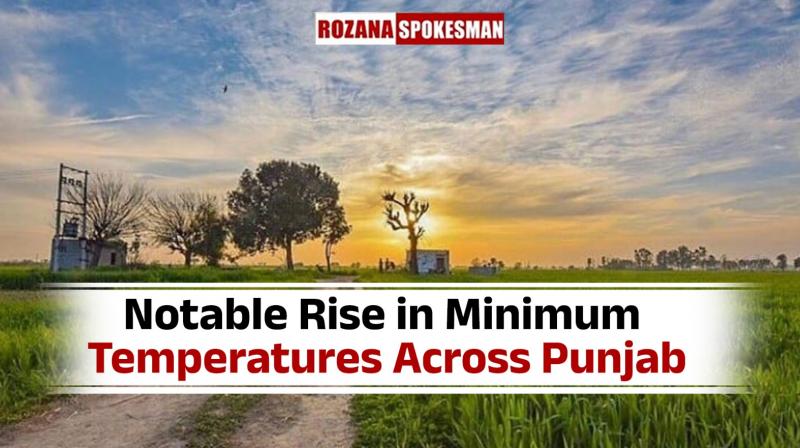 Punjab Weather Update
Average Minimum Temperature Records a 1.3°C Increase; Gurdaspur Registers Lowest Minimum at 10°C
Punjab Weather Update: In a noticeable shift from yesterday's weather patterns, Punjab witnesses a rise of 1.3°C in the average minimum temperature today. However, the current temperatures are significantly above normal, registering an appreciable deviation of 3.2°C in the state, said the Punjab Meteorological Department.
The lowest minimum temperature in the region is reported at Gurdaspur, standing at 10°C, according to data from the Agricultural Meteorological Field Unit (AMFU). The AMFU recorded temperatures across various districts in Punjab, revealing a varied distribution across the state.
District-wise Minimum Temperatures:
Chandigarh: 13.8°C
Chandigarh (Airport): 14.9°C
Amritsar: 12.7°C
Ludhiana: 13.1°C
Patiala: 13.5°C
Pathankot: 12.5°C
Bathinda: 12.0°C
Faridkot: 12.2°C
Gurdaspur: 10.0°C
Ballowal Saunkhri (SBS Nagar): 12.2°C
Barnala KVK (AWS) (Barnala): 13.2°C
Faridkot: 14.1°C
Fatehgarh Sahib: 13.8°C
Firozpur KVK: 14.2°C
Gurdaspur: 12.9°C
Nurmahal KVK (AWS) (Jalandhar): 13.2°C
Ludhiana: 13.4°C
The varying temperatures across districts indicate localized weather patterns, contributing to the overall climate dynamics in Punjab. The appreciable rise in temperatures, particularly in comparison to the previous day, highlights the dynamic nature of the state's weather.
(For More News Apart from Punjab Weather Update News, Stay Tuned to Rozana Spokesman)