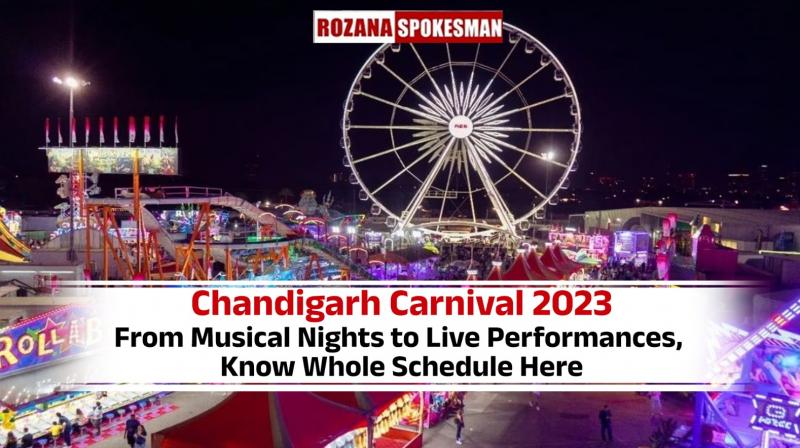 Chandigarh Carnival 2023
Exciting Lineup of Events and Activities from November 24 to 26 Promises Entertainment for All
Chandigarh Carnival 2023 Schedule News: Chandigarh is set to come alive with a burst of festivities as the Chandigarh Carnival 2023 unfolds, offering a vibrant schedule featuring musical nights, live performances, and an array of engaging activities. The carnival, scheduled for November 24 to 26, is expected to draw crowds with its diverse lineup.
Here is the Event Schedule: 
November 24, 2023....
- 12:00 pm: Inauguration of Chandigarh Carnival
- 12:00 pm: Flag off Viksit Bharat Sankalp Yatra Van
- 12:00 pm: Carnival Parade
November 24 to 26, 2023....
- 10 am to 7 pm: Vintage Car Display: Explore a fascinating collection of vintage cars.
- 10 am to 6 pm: Young Talent Promotional Stage, Cultural performances by NZCC artists, Art Workshops and Installation displays, Art exhibition and display by eminent artists.
Exhibition Stalls and More:
- 10 am to 10 pm: A variety of exhibition stalls, food stalls, amusement park, floats, and business stalls will be open for visitors.
- 10 am to 10 pm: Exhibition Stalls by Government departments 
November 24 & 25, 2023....
- 12 pm to 2 pm: Be a Tourist in Your Own City and See Its Many Wild Wonders (Expert Sessions)
Evening Entertainment....
November 24, 2023
- 7 pm Onwards: Harmony Of The Pines - Himachal Police Orchestra
November 25, 2023: Musical Evening....
- 7 pm Onwards: Mesmerizing performance by Famous Singer Kailash Kher
November 26, 2023: Musical Evening....
- 7 pm Onwards: Famous Singer Babbu Mann takes the stage for a memorable performance 
November 26, 2023....
- 4 pm to 5 pm: A Tour of Wildlife India- Film Screening
The Chandigarh Carnival 2023 promises an enriching and entertaining experience for attendees, bringing together a mix of culture, talent, and celebration. From vintage car enthusiasts to music lovers, there's something for everyone at this lively event.
(For More News Apart from Chandigarh Carnival 2023 Schedule News, Stay Tuned to Rozana Spokesman)