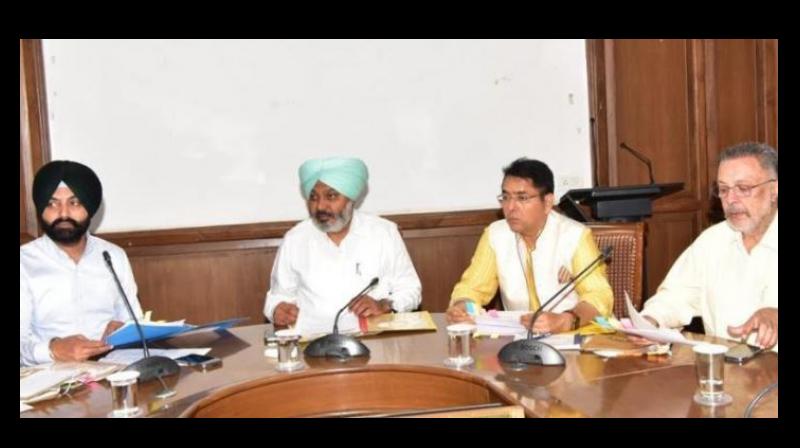 Meeting
After the merge, No of buses in the fleet of Punjab Roadways will mount to 790
CHANDIGARH: Aiming to restore the old glory of Punjab Roadways, which is considered as the backbone of the Transport Department of Punjab, the Punjab Government led by Chief Minister Bhagwant Mann has decided to include the loan-free buses of Punbus (Punjab State Bus Stand Management Company) in Punjab Roadways. After the merging of about 587 buses of Punbus, the number of buses in the fleet of Punjab Roadways will mount to 790.
Cabinet sub-committee, in which Finance Minister Advocate Harpal Singh Cheema, Employment Generation Minister Aman Arora, Transport Minister Laljit Singh Bhullar and Health Minister Dr. Balbir Singh has asked the Transport Department to speed up the process of merging of debt-free buses of Punbus in Punjab Roadways.
During a meeting with the representatives of Punjab Roadways/Punbus State Transport Workers Union here at Punjab Bhawan, the sub-committee directed the officials of the department to conduct regular checking of government buses and charge ten times the fare from passengers traveling without tickets and violating the rules. Action should be taken accordingly. He also directed the department to ensure that all government buses stop at their designated bus stops so that passengers especially women do not face any kind of difficulty.
While sympathetically considering the demands of the representatives of Punjab Roadways/Punbus State Transport Workers Union, the Cabinet Ministers assured that their legitimate demands are under the consideration of the government and a decision will be taken soon. It is worth mentioning here that the Punjab government is taking all possible steps to further improve the public transport system and facilities in the state.
Notably, Secretary of Transport Department Dilraj Singh Sandhawalia, Director Transport Amandeep Kaur and other senior officials of the department were also present in the meeting.