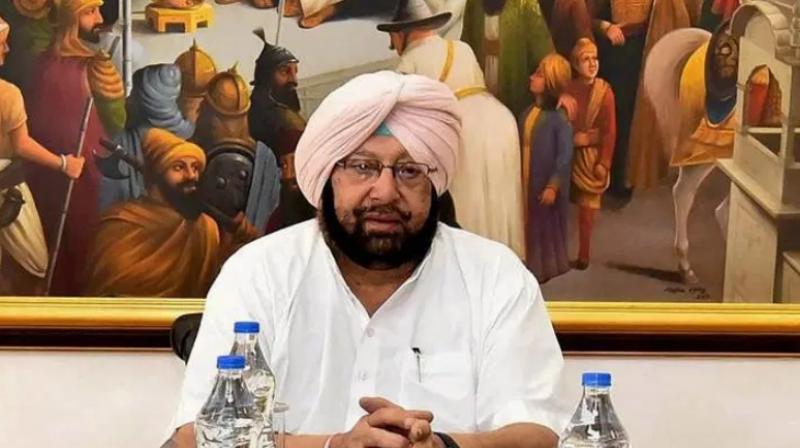 Captain Amarinder Singh
PUNJAB RECEIVES HUGE INCREASE IN INVESTMENTS IN IT/ITeS/ESDM SECTORS, TOUCHES Rs. 605 CRORE IN 2019-20 : CEO INVEST PUNJAB
With the persistent efforts of Punjab Chief Minister Captain Amarinder Singh to woo investors and investments, the investments in IT/ITeS sectors in state have touched Rs. 605 crore, which is  approx 65  percent higher than the investment figure of last financial year.Disclosing this here today, the CEO Invest Punjab Rajat Agarwal said that the trend of increase in IT investments in the state is continuing as even during the previous financial year 2018-19, the IT sector investment had seen a major jump from Rs. 121.49 cores in 2017-18 to Rs 365 Cr in 2018-19.
The CEO stated that the investments in IT/ITeS sector have risen substantially during the financial year 2019-20 and have touched Rs. 605 crores with the aggressive policy advocacy and proactive follow up with the investors. He said that this investment would further boost employment opportunities by generating job avenues of approximately 4600 IT professionals. He said that some of the major companies who have invested during 2019-20 were Aeren IT Solutions, Entella Pvt. Ltd. a Sweden origin Company, Target Everyone IT Pvt. Ltd., Miran Informatics Pvt. Ltd., Mark Software, EON Infotech and Vertex Infosoft Solutions Pvt. Ltd. among many others.
Carrying forward the sucess of STPI Mohali towards development of an IT ecosystem in Mohali, the CEO pointed out that another STPI centre was being setup by the Punjab Government at Amritsar. Aggarwal said that the Information Technology Department of State Government is bearing the entire cost of land, approx Rs. 6 crores has already been released to PSIEC besides Rs. 1 crore as grant-in-aid and Rs. 4 crores towards construction of 10,000 sq. ft. against total construction cost of approx Rs. 20 crores for 38000 sq. Ft total buitt up area. This initiative of State Government is extected to  go a long way in encouraging new IT/ITES knowledge entrepreneurs for setting and starting their operation and for generating employment in the Amritsar region, he added.
Notably, Punjab is on the way to transition from Agri based to a Technology Driven economy and has identified IT/ITeS/ESDM as a thrust sector. Invest Punjab is actively promoting this sector by offering special incentives over and above the non-thrust sectors and implementing state policy initiatives that supports IT/ITeS/ESDM industry.
In order to further promote high tech technology development in the state, Agarwal mentioned that the State IT Department has collaborated with Softaware Technology Parks of India (STPI) and submitted proposals to the Union Ministry of Electronics and Information Technology for setting up of Centres of Excellences in Punjab in IT, AI, Machine Learning, Data Analytics, IoT etc.
 He said that Punjab Government had signed a MoU with Semi-Conductor Laboratory (SCL) and STPI for setting up Center of Excellence (CoE) in Microelectronics/ASIC DESIGN in STPI premise in Mohali for the Development of Electronic Design and Manufacturing ecosystem in the state of Punjab. The said CoE will undertake Research & Development in the areas of Advanced VLSI Device Fabrication, VLSI Device, semiconductor Circuit Design and Device Modeling, said CEO adding that the SCL would  provide the technical guidance & mentorship to COE.
It may be recalled that Punjab Government had envisaged to transform Mohali into a world class IT hub of the country with world class amenities. The state has developed an IT city next to the Mohali International Airport with modern facilities. The region is also home to Quark City, Bestech Towers and STPI with ready to move in, plug and play infrastructure. STPI, Mohali provides regulatory support to all IT units in the tricity and has touched exports to the tune of INR 4,400 crores in FY 2018-19. The state also has India's only large-scale ASIC Fabrication Laboratory in SCL-Mohali, which is aiding in international research and technology projects by developing cutting edge technology for Chandrayaan 2 and a Large Hadron Collider, CERN Geneva  besides many other strategic electronics sector projects.
The Punjab Start Up hub (NEURON) at STPI identifies and evaluates promising startups in the field of AI/Data Analytics, IoT, Audio, Visual and Gaming. Built at a cost of approx INR 60 Cr, the  facility is spread over 1.40 lakh sq ft. of built up space and is one of the country's largest incubation facility.The IT sector was able to quickly adapt to the lockdown situation and all 23 Incubated IT companies (400 Employees) operating from STPI Mohali Incubation center were able to work from their home during the lockdown.