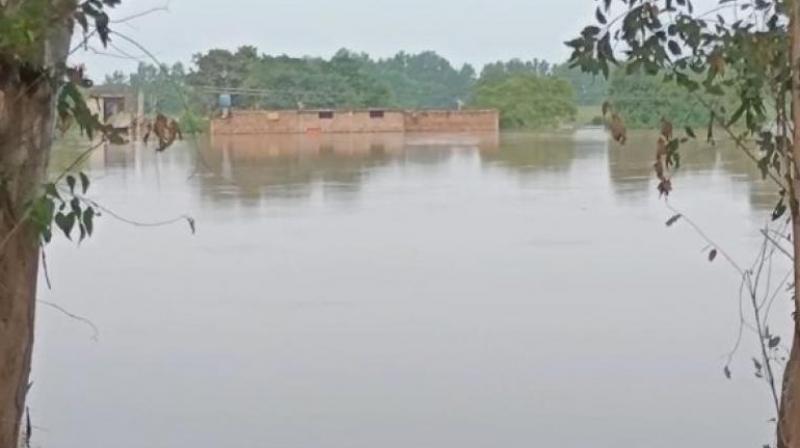 Punjab Flood
Gurdaspur's Deputy Commissioner, Dr. Himanshu Agarwal, Promptly Arrived on the Scene
GURDASPUR: The Villages of Gurdaspur were thrown into disarray as the Dhusi Dam succumbed to the force of surging waters, leading to widespread flooding. The incident, which occurred in the aftermath of elevated water releases from the Pong Dam into the Beas River, has prompted swift action from the district administration. Reports indicate that a total of 10 villages have been evacuated, signaling the urgent need for safeguarding residents.
The surging water levels along the Beas River have given rise to mounting concerns. In response to this situation, the district administration sounded a high alert and called upon inhabitants to seek refuge in safer locales.
In a bid to manage the crisis, the administration took the precautionary measure of suspending traffic on the Darya Beas bridge along the Gurdaspur-Mukerian road. The village of Dinanagar, particularly Jagatpur Tanda, bore the brunt of the flooding as a breach in the Dhusi Dam caused waters to inundate the vicinity. In this critical hour, Shamsher Singh, Aam Aadmi Party's Dinanagar constituency in-charge, extended his assistance to facilitate the evacuation of affected residents.
Gurdaspur's Deputy Commissioner, Dr. Himanshu Agarwal, promptly arrived on the scene to assess the extent of the damage and oversee the response efforts. Recognizing the urgency of the situation, Agarwal mobilized resources, including boats, for immediate relief. He emphasized the administration's vigilance in closely monitoring developments and rolled out a helpline, reachable at 1800-180-1852, for affected individuals.
In light of the unfolding situation, the administration issued a stern advisory, urging travelers to avoid the Darya Beas bridge along the Gurdaspur-Mukerian Road. Instead, those commuting between Mukerian and Gurdaspur were advised to reroute through Pathankot, Mirthal, and Dinanagar.