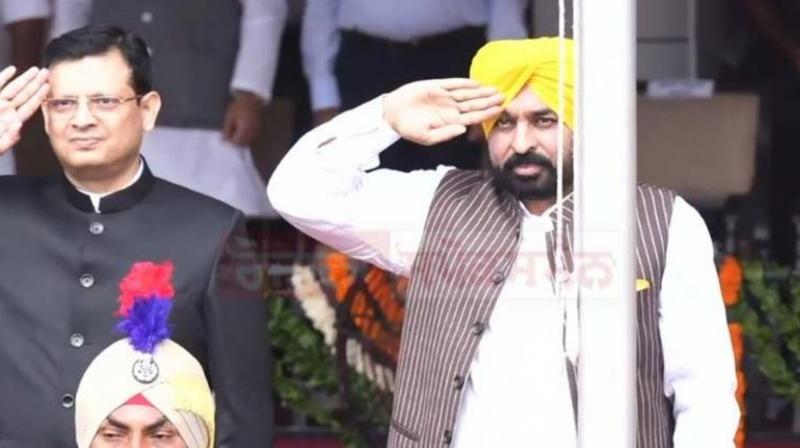 CM Bhagwant Mann
CM Bhagwant Mann Pays Homage to Freedom Fighters
PATIALA: Punjab Chief Minister Bhagwant Mann unfurled the national flag in Patiala to commemorate the 76th Independence Day. Following the flag hoisting ceremony, he conducted a parade inspection. In his address to the people of Punjab, Chief Minister Bhagwant Mann paid tribute to the freedom fighters whose indomitable spirit contributed significantly to the nation's liberation.
Highlighting the remarkable dedication of Punjabis towards the cause of freedom, the Chief Minister noted that 80 percent of those who faced retribution for the sake of independence were from Punjab. He emphasized that not only did Punjabis play a crucial role in securing the country's freedom, but they also possess the fortitude to safeguard it. In the face of adversity, be it from Pakistan, China, or any other source, Punjabis stand resolutely in defense of the nation.
Addressing the significance of freedom to Punjabis, Chief Minister Mann stated, "While freedom is important for the entire country, its meaning holds a distinct weight for those born on the soil of Punjab. Punjab's contribution to attaining and preserving independence has been substantial, whether it's the farmers or the youth."
Reflecting on the historical lineage of resistance against oppression, Chief Minister Mann drew inspiration from Sikh Gurus. He noted that the legacy of fighting against injustice began with Sri Guru Nanak Dev Ji, who referred to Babur as a "Jabar." The sacrifices of Sri Guru Arjan Dev Ji and Sri Guru Teg Bahadur Ji were instrumental in the freedom struggle. The valiant stand of Sri Guru Gobind Singh Ji and the unwavering sacrifice of the younger Sahibzades also left an indelible mark on Punjab's journey to freedom.
Recounting the pain of the partition of 1947, Chief Minister Mann acknowledged the wounds that still remain unhealed. He lamented the loss of lives and the division of people that this tragic event brought. The cherished freedom came at a heavy cost for Punjab, with over a million lives lost during the partition.
In a significant announcement, Chief Minister Bhagwant Mann outlined plans to combat drug abuse. He revealed that a comprehensive strategy is ready for implementation to eradicate this menace. Asserting that those who indulge in drug consumption will receive medical attention while smugglers will face legal consequences, he expressed optimism that Punjab would cleanse itself from the stigma associated with drug abuse by the next Independence Day.
Moreover, CM Bhagwant Mann initiated the registration of "Khedan Watan Punjab Ki," a scheme aimed at promoting the welfare of the state. In the run-up to the Panchayat elections, he also announced a special grant of Rs 5 lakh for villages that elect Sarpanchs through unanimous decisions, encouraging grassroots participation and development.