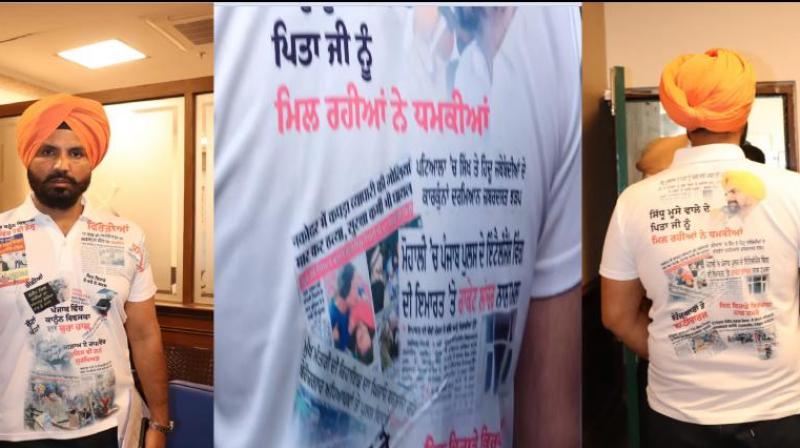 Raja Warring at Vidhan Sabha
Complete 'Jungle Raj' has gripped Punjab: Raja Warring
CHANDIGARH: The Second day of the budget session of Punjab Vidhan Sabha started amidst the opposition's uproar. The Governor's speech is being discussed today. Punjab Congress President Amarinder Singh Raja Waring was in limelight as he wore a news print T-shirt to the Vidhan Sabha.
Meanwhile, he also talked to the media about the issues of Punjab and said that crime incidents are spoiling the environment of Punjab everyday. This has become a matter of concern for people. The condition of Punjab has become worse and the government is watching as a silent spectator. The incidents that happened in Punjab since last year, the Congress repeatedly raised all those issues with the government, but the state govt always responds with only one answer that there is peace and tranquility in Punjab.
Raja Waring said that the situation in Punjab has become such that the Punjab Police was so strong, which has now been completely weakened. He said that now it seems as if he is feeling helpless. Raising the question, Raja Waring said that the incident takes place in Punjab but the people of Delhi are arresting the culprits. 
Speaking in favor of Sidhu Moose Wala's father, he said that now Sardar Balkaur Singh is receiving constant threats but the government has no time to listen to his voice. He said that a full year is about to pass but his family is yet to get justice. He said that a person who has lost his son and is now receiving death threats, nothing worse than this can happen in Punjab. Regarding the Ajnala incident, he said that even after 15 days, a case has not been registered in this matter and it seems that now a complete 'Jungle Raj' has gripped Punjab.