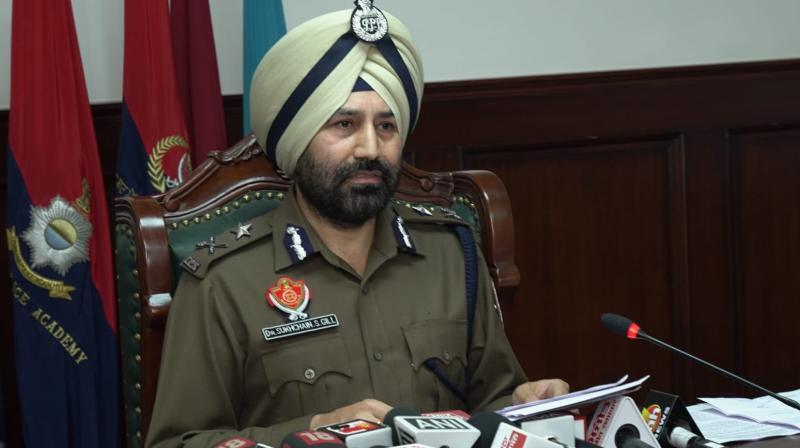 IGP Sukhchain Singh Gill
Seven Jail Officers of Goindwal Sahib Central Jail Suspended
CHANDIGARH: As per the Commitment of Chief Minister Bhagwant Mann, Punjab Police on Sunday (March 5) suspended seven jail officials, out of which five were arrested, giving a strong message to those who are dereliction of duty and neglecting law and order. The Superintendent of Central Jail, Goindwal Sahib is among the arrested persons, who were involved in the case of negligence in duty and alleged connivance with inmates in the jail after a video of Sidhu Moosewala murder accused gangsters who had allegedly murdered two fellow inmates in the jail on Feb 26 surfaced on social media.
A Video Recorded in the Central Jail, Goindwal Sahib, went viral on Sunday, in which Sachin Bhiwani and his accomplices are seen narrating the incident of two jail inmates killed during a gang war in the jail on February 26, 2023. IGP Headquarter Sukhchain Singh Gill, who was addressing a press conference at the Punjab Police headquarters here, identified the five jail officials suspended and arrested as Jail Superintendent Iqbal Singh Brar, Additional Jail Superintendent Vijay Kumar, Assistant Jail Superintendent Harish Kumar,  ASI Joginder Singh and ASI Harchand Singh. While two other jail officials who have been suspended include Additional Jail Superintendent Jaspal Singh Khaira and Head Constable Savinder Singh.
Notably, An FIR has been registered in connection with the case at Goindwal Sahib police station. Initially, a case has been registered against the jailed inmates include Manpreet Singh alias Bhau, Sachin Bhiwani alias Sachin Chaudhary, Ankit Lati alias Ankit Sirsa, Kashish alias Kuldeep, Rajinder alias Joker, Hardeep Singh alias Mama, Baldev Singh alias Nikku, Deepak alias Mundi and Malkit Singh.
The IGP said that after the investigation, the police have named the jail officials in this FIR for their negligence and collusion with the jail inmates for shooting the video, which was shot on the day of the incident and went viral on social media a few days later. He said that the accused jail inmates will be brought on production warrant for further questioning. After this incident in the jail, the police and the jail administration have already separated the accused and transferred them to different jails of the state. IGP Gill added that strict instructions have been given to the Punjab Police by the Punjab government-led by Chief Minister Bhagwant Mann that if any government employee is found negligent in duty, he should be dealt with strictness. It is worth mentioning here that to prevent such incidents in the future, random checks will be conducted by the senior rank officers in the jails.