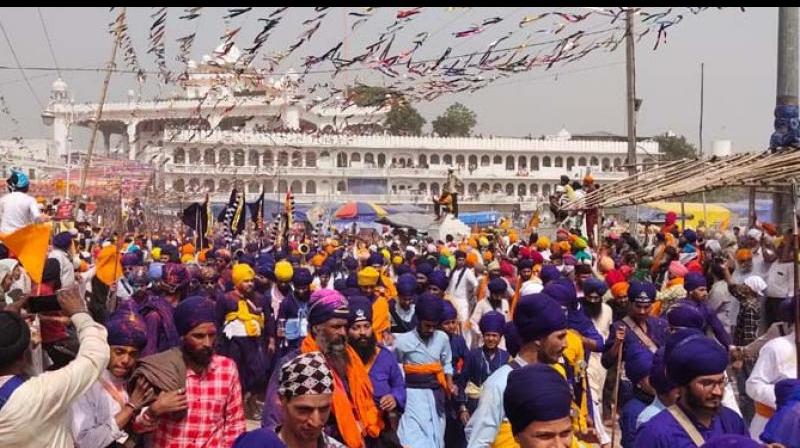 Hola-Mohalla
Hola Mohalla 2023: Sri Akhand Path Sahib will Commence at Takht Sahib Today
SRI ANANDPUR SAHIB: Hola-Mohalla, the National Festival symbolizing the rise of the Khalsa Panth, will begin today (Monday, March 6) at Sri Anandpur Sahib, the birthplace of the Khalsa Panth, with full pomp and show. The manager of Takht Sri Kesgarh Sahib, Bhai Gurdeep Singh Kang, said that today on March 6th, Jathedar Giani Raghbir Singh of Takht Sahib will pray for the initiation of Hola Mohalla at Takht Sri Kesgarh Sahib and Sri Akhand Path Sahib will also commence today.
On March 8, Sri Akhand Path Sahib bhog will be offered, after which the religious diwan will be decorated, in which the Jathedar of Akal Takht Sahib will give a message to the people. As every year on the first day of Hola-Mohalla, this year also Nirmal Bhekh people along with Panj Pyares will take out huge Nagar Kirtan in the city.
The information has been shared by Sant Pritam Singh Domeli. He further said that this Nagar Kirtan will commence from Gurudwara Sant Baba Dalip Singh Domeli Chak Holgarh Road, Agampur Chowk, Main Road, Bus Stand, Railway Road, Panj Pyare Park, Gurdwara Qila Anandgarh Sahib and will conclude at Navi Abadi Takht Sahib. The local Panj Pyare Park is getting a new makeover and has become a special attraction for devotees.
Various kinds of Guru-ka-Langar are going on everywhere. In view of the heavy influx of devotees, the administration has made proper security arrangements. All the Gurdwaras including Takht Sri Kesgarh Sahib, Gurudwara Sis Ganj Sahib, Gurdwara Shri Bhora Sahib, Gurdwara Qila Anandgarh Sahib are decorated with colorful lights on the special occasion.