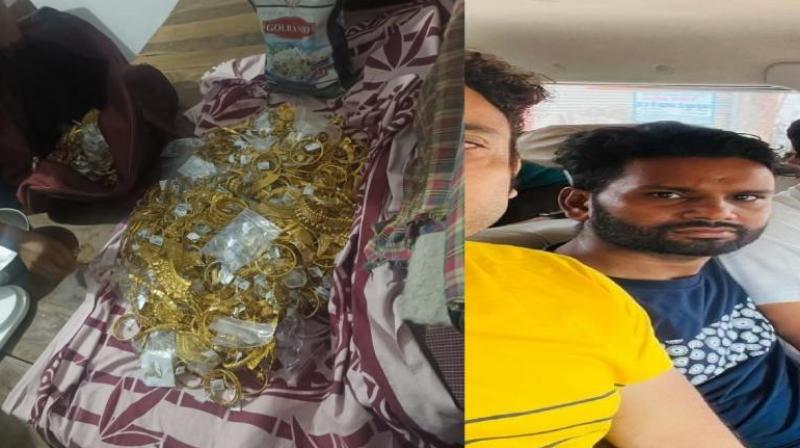 Jewelry Robbery Case
In a major breakthrough, Delhi Police apprehends Lokesh Shrivas and Shiv Chandravanshi linked to a high-profile jewelry heist
NEW-DELHI: Delhi Police has made significant strides in solving the recent high-profile jewelry theft case, where jewelry worth Rs 25 crore was stolen from a showroom in the upscale area of Jangpura in Delhi. Two individuals hailing from Chhattisgarh, identified as Lokesh Shrivas and Shiv Chandravanshi, have been taken into custody in connection with the theft, and a substantial haul of 25 kg of gold has been recovered.
The Arrest was carried out by the Durg police in Chhattisgarh, who had been actively pursuing Lokesh Shrivas in various theft cases. Prior to this, Lokesh Shrivas was already in custody for a previous theft at Parakh Jewelers in Akashganga. The recovered gold and cash from Lokesh are believed to be linked to the Rs 25 crore theft in Delhi.
The Theft, which occurred four days ago, involved three unidentified individuals who successfully made away with jewelry worth Rs 25 crore from Umrao Singh Jewellers in the Bhogal area of Delhi. The thieves gained entry by breaking into the showroom through the roof. The stolen loot comprised gold, diamonds, and other precious jewels.
Shop owner Mahaveer Prasad Jain, expressing distress over the incident, revealed that the showroom, with a history of 75 years, had its ground floor dedicated to customer transactions while the upper floors were utilized for storage and jewelry-related operations. The theft came to light when the owner opened the shop on Tuesday morning and discovered the extensive loss.
Notably, The Hazarat Nizamuddin Police Station registered a case, prompting the closure of all shops in the vicinity on Monday to aid investigations. A strong police presence and multiple investigative teams have been deployed to expedite the resolution of the case, with the assurance of capturing the remaining culprits at the earliest.