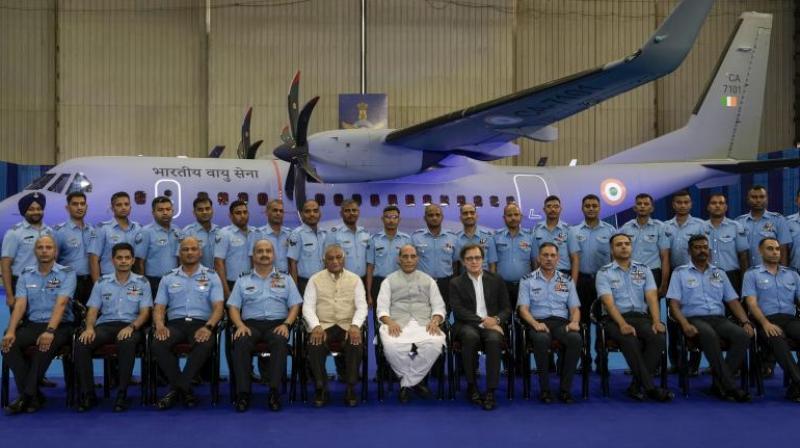 Indian Air Force
Air Force Strengthens Logistics Capabilities with the Induction of Advanced C-295 Aircraft
GHAZIABAD: In a Significant Milestone for the Indian Air Force, the inaugural C-295 medium military transport aircraft was officially inducted, promising to enhance the military's logistical capabilities and cater to a spectrum of operational requirements. The induction ceremony, graced by Defense Minister Rajnath Singh, took place at Hindon Air Force Station in Ghaziabad, Uttar Pradesh.
The Ceremony included a traditional 'Sarb Dharam Puja' in celebration of the C-295 aircraft's integration into the Air Force. Chief of the Air Force, Air Chief Marshal V.R. Chaudhary, and eminent officials from the Air Force and Airbus were present during this momentous event. The C-295 aircraft is now a part of Squadron No. 11, an esteemed unit within the Indian Air Force, presently stationed at Vadodara Air Force Station.
The Aircraft was officially unveiled after a symbolic gesture involving the unveiling of two sliding screens bearing inscriptions, namely '11 Squadron: Pioneers of C-295MW' and 'Rhinos: The Trailblazers of C-295MW'. Additionally, a visual representation of the new aircraft, featuring the symbol of Squadron 11, a one-horned rhinoceros was showcased. 
On September 13, 'Airbus Defense and Space Company' handed over the inaugural C-295 transport aircraft to the Chief of the Indian Air Force, Air Chief Marshal V.R. Chaudhary. This event marked a crucial step in the modernization efforts undertaken by the Indian Air Force, aiming to replace the aging Avro-748 fleet with 56 state-of-the-art C-295 transport aircraft. The procurement agreement with Airbus Defense and Space Company was forged two years ago, with a total investment of Rs 21,935 crore. Having arrived in Vadodara on September 20, the C-295 was formally handed over to the Indian Air Force in the city of Seville, Spain, a few days prior to its induction.