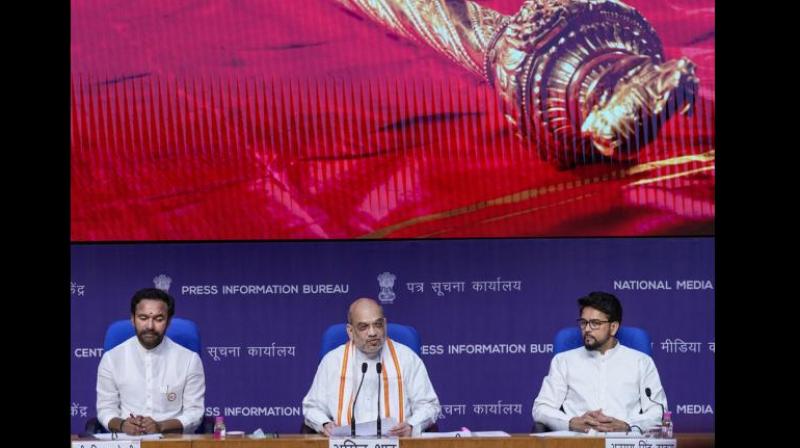 Amit Shah
Historical 'Sengol' to be installed in the New Parliament Building: Amit Shah
NEW-DELHI: Union Home Minister Amit Shah said on Wednesday that the historic 'Sengol', a symbol of power handed over to India by the British rule, will be installed in the new Parliament House. The Home Minister said, a historical tradition will be revived in the inauguration ceremony, which has a tradition behind it for ages. It is called Sengol in Tamil, the word meaning full of wealth.
Home Minister Amit Shah said, on 14 August 1947, a unique incident took place. After 75 years, most of the citizens of the country are not aware of this. Sengol has played an important role in our history. This Sengol became a symbol of the transfer of power. When PM Modi got this information, a full investigation was conducted. Then it was decided to put it before the country. The day of the inauguration of the new Parliament building was chosen for this.
'Sengol' is now in a museum in Allahabad. The country's first Prime Minister Jawaharlal Nehru took 'Sengol' as a symbol of the transfer of power from the Britishers.
Prime Minister Narendra Modi will inaugurate the new Parliament building on May 28. Amit Shah said that the purpose of establishing 'Sengol' was clear even then and is still the same. He said that transfer of power is not just about shaking hands or signing a document and it should be integrated with local traditions keeping in mind the modern needs.
He said, "Sengol today represents the same spirit that Jawaharlal Nehru felt on August 14, 1947." The Union Home Minister said that the new Parliament Building is an example of Prime Minister Narendra Modi's foresight.
He said, "In a way, the new Parliament House is a proof of Prime Minister Modi's foresight. It is a beautiful attempt to combine our cultural heritage, tradition and civilization with modernity in building a new India."
He said that on the occasion of the inauguration, the Prime Minister will also honor the 60,000 workers who contributed to the construction of the Parliament Building. Shah said that invitations have been sent to all political parties for the inauguration of the new Parliament building.