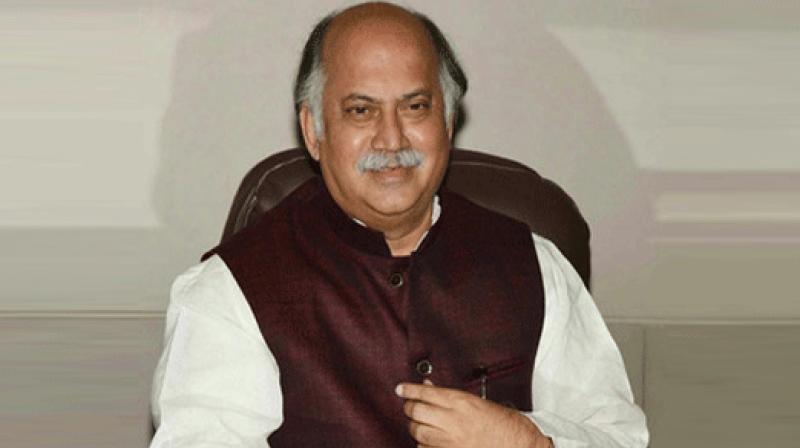 Political leaders condoled the death of senior Congress leader Gurudas Kamat today, with Maharashtra Chief Minister Devendra Fadnavis describing him as a man of excellent organisational skills who was committed to the masses. The former Union minister died in New Delhi after suffering a heart attack early today at the age of 63, family sources said. Kamat had an excellent rapport with the citizens of Mumbai and he used to take the lead in solving problems plaguing the megapolis, Fadnavis said in his condolence message.
"He not only had excellent organisational capabilities but was also well read and would take a firm stand over issues. His contribution towards different sectors through his politics is commendable...we have lost a leader who was closely associated with the masses," he said. NCP chief Sharad Pawar expressed sadness over Kamat's demise. "We have lost a leader who knew the pulse of Mumbaikars and would always voice their concerns in Parliament. My heartfelt condolences to his family. May his soul rest in peace," Pawar said.
Saddened by the demise of Former Union Minister Shri Gurudas Kamat ji. My deepest condolences to his family and followers.

— Devendra Fadnavis (@Dev_Fadnavis) August 22, 2018
BJP MP Kirit Somaiya said Kamat was a gentle politician who always fought for the cause of Mumbai. "We kept fighting the Lok Sabha polls against each other, won some, lost others," he said. Somaiya said whenever they met, Kamat would always ask him about problems of Mumbai and about the former's wife, a professor who used to teach the Congress leader's son. Congress MP Ashok Chavan said Kamat's demise was shocking and marked the end of a dedicated and a faithful leadership.
"We stand along with the Kamat family in this time of mourning," he said. Congress legislator Sanjay Dutt said Kamat was a dynamic and result-oriented leader, whose loyalty to the party and its leadership would keep inspiring the party workers. Former AICC general secretary in-charge of Maharashtra Mohan Prakash termed Kamat's demise an irreparable loss to the Congress. "He was associated with it right from his days of youth Congress. He was a good organiser, orator and administrator. He contributed heavily to the party. My condolences to his kin and friends," he said.
Saddened by the demise of a veteran Congress leader and former Union Minister Shri Gurudas Kamat. We have lost a leader who  knew the pulse of Mumbaikars & would always voice their concern in Parliament. My heartfelt condolences to his family. May his soul rest in peace.

— Sharad Pawar (@PawarSpeaks) August 22, 2018
Shiv Sena legislator Manisha Kayande said Kamat remained true to his party till the end. A man of principles, he was a true Congressman who was very popular in the city, she said. "He could have done much more for the Congress but he was sidelined by the current Mumbai party president," Kayande claimed. Kamat was a member of Parliament for the Mumbai North-West constituency in 2009 and the Mumbai North East constituency in 1984, 1991, 1998 and 2004.
He was Union minister of state for home affairs with the additional charge of the Communications and Information Technology Ministry from 2009 to 2011. In July 2011, he resigned as the minister. He was also a former president of the Mumbai Regional Congress Committee. An advocate by profession, Kamat was a commerce graduate from the R A Podar College in Mumbai and had a law degree from the Government Law College.