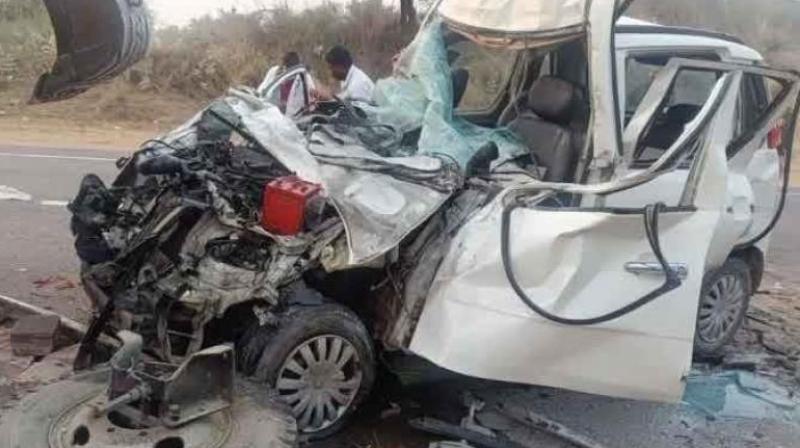 Rajasthan Accident News
Churu District Witnesses Devastating Collision Between Police Vehicle and Truck, Chief Minister Expresses Grief
Rajasthan Accident News: In a devastating incident in Churu district, Rajasthan, five police personnel lost their lives in a tragic road accident on Sunday morning. Two others sustained injuries when their vehicle collided with a stationary truck in the Sujangarh Sadar police station area.
The mishap occurred as the police personnel were en route to Taranagar for duty in an election assembly. The collision with the truck proved fatal for five officers, and two others were left injured in the aftermath. Churu District Superintendent of Police, Praveen Naik, confirmed the unfortunate incident.
Expressing his condolences, Chief Minister Ashok Gehlot took to 'X' to share his grief over the loss. In his statement, he said, "Early today, we received the sad news of the death of police personnel in a vehicle accident from Sujangarh Sadar area of Churu. We sympathize with the families of all the deceased policemen in this accident. I wish the injured a speedy recovery."
As per initial reports, the police vehicle collided with a stationary truck, leading to the tragic outcome. Authorities are conducting an investigation to determine the circumstances that led to the accident. The untimely loss of five police personnel has left the community in sorrow. The brave officers were on their way to fulfill their duty in an election assembly, and their sudden demise has cast a pall of grief over Churu district.
The investigation into the accident is ongoing, and further details are expected to emerge as authorities delve deeper into the circumstances surrounding the tragic collision.
(For More News Apart from Rajasthan Accident News, Stay Tuned to Rozana Spokesman)