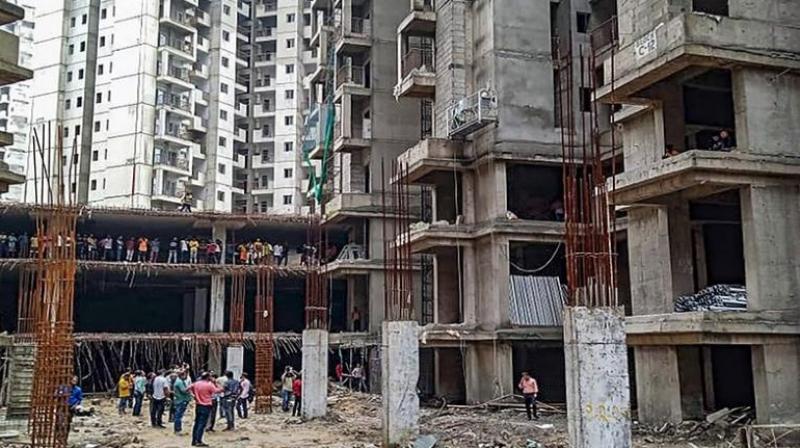 Lift Accident in Noida
Under-construction Society's Service Lift Collapse Leaves Multiple Workers Killed & Injured 
NOIDA: A Devastating lift accident in Noida Extension has resulted in the unfortunate loss of eight lives, further highlighting the importance of safety protocols at construction sites. The incident occurred at the Amrapali Dream Valley project site, where an under-construction tower lift gave way, plummeting from the 14th floor with nine individuals onboard.
District Magistrate Manish Verma confirmed, "Following the accident on Friday, four laborers lost their lives, and five others were rushed to the district hospital in critical condition. Tragically, four more workers succumbed to their injuries on Saturday, while one laborer continues to receive medical treatment."
All the injured laborers were immediately admitted to the district hospital in Noida. The victims identified as Bipot Mandal (45), Arun Dati Mandal (40), Ishtiaq Ali (23), and Aris Khan (22) tragically lost their lives on Friday. Subsequently, Maan Ali (22), Mohammad Ali Khan (18), Arbaaz (22), and Kuldeep Pal (20) succumbed to their injuries in the aftermath, while the condition of Kaif (21) remains critical.
Notably, During the investigation, the police uncovered that the contractor had previously alerted project officials to issues with the lift. However, despite these warnings, no action was taken to rectify the problem. As a result, an FIR has been filed in the Bisrakh police station, with charges including negligence and manslaughter against nine individuals. Both the district administration and the Greater Noida Authority have initiated investigations into the incident.