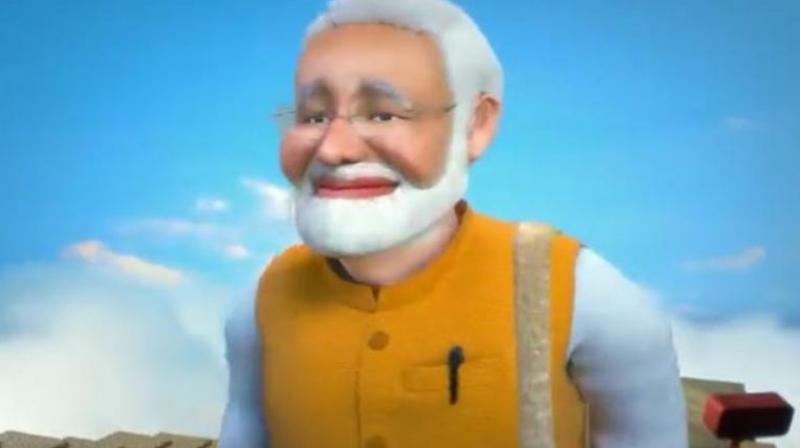 PM Modi
Reply to Every Attack Made by the Opponents
NEW-DELHI: The Bharatiya Janata Party (BJP) has shared an animated video of Prime Minister Narendra Modi, which shows his entire journey from 2007 till now. The video is a reply to opposition's attacks. The video shows how Prime Minister Modi went towards his goal overcoming all the criticisms of his opponents and became the Prime Minister of the country twice.
Sharing this 4-minute video on Twitter, BJP wrote, "Mujhe Chalte Jana Hai..." This video starts from the year 2007 when Prime Minister Narendra Modi was the Chief Minister of Gujarat and when he commenced his journey to reach the post of Prime Minister in the 2014 general elections. As PM Modi starts climbing the stairs to get there, Congress leader Sonia Gandhi attacks him, by calling him 'merchants of death'.
???? ???? ???? ??... pic.twitter.com/1NLvbV7L8y

— BJP (@BJP4India) March 14, 2023
However, Prime Minister Narendra Modi continues to ignore her. Meanwhile, he is also mocked as a 'Chaiwala' and over the US visa ban. However, Modi continued to advance and reached the prime minister's chair in 2014.
The journey of the contribution of PM Modi in the welfare of the country has also been displayed in the video. The problems faced by the Indians and the relief due to the schemes implemented by the Prime Minister have also been described in the video.
In the video, the work done under the Modi-led government, 'Swachh Bharat Mission', 'Pradhan Mantri Mudra Yojana', 'Ujwala Yojana', 'Jan Dhan Yojana', 'Jeevan Jyoti Bima Yojana', 'Pradhan Mantri Awas Yojana' and 'Fasal Bima Yojana' has also been shown. Congress leader Rahul Gandhi can also be seen accusing Modi of the Rafale scam as he was re-elected as Prime Minister in 2019.
In the last part of the video clip, PM Modi is seen unfazed by comments like 'Gautam Das', 'Modi teri kabar khudegi', 'Neech', 'cockroach', 'Raavan' and works towards the goal of making India 'one'.