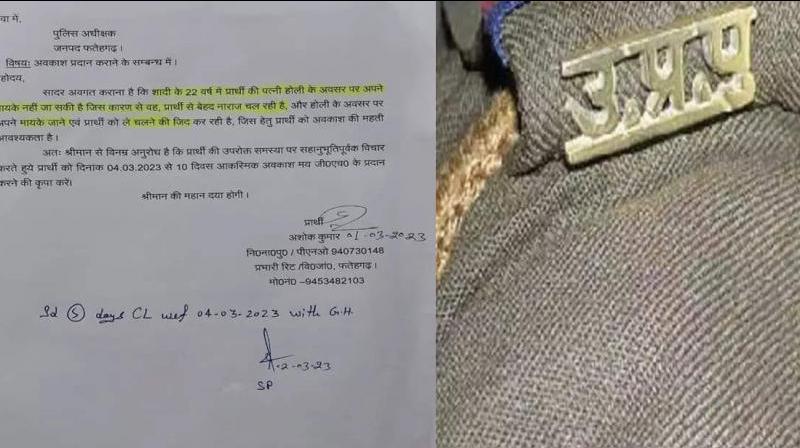 Viral Letter
5-Days-Leave of the Inspector approved
FARRUKHABAD: An inspector in Uttar Pradesh's Farrukhabad has applied for leave on Holi 2023. The application went viral on social media. The letter reads that the wife of the inspector has not visited her parents' house on Holi from the last 22 years. This time he has to take her home. For this reason, He applied for a 10 days leave.
The Inspector forwarded the application to the SP office for festive leave. Noticing the unique letter, SP Ashok Kumar Meena sanctioned five days leave of inspector. This application of the policeman is doing rounds on social media sites.
Notably, This year, the holidays of the police personnel on the special occasion of Holi 2023 have been cancelled. Police department is full alert to maintain peace during the festival. Due to this, the vacations of most of the police personnel have been canceled but the police department had asked for ten days leave citing such a problem.
The Letter reads, "After 22 years of marriage, the applicant's wife could not go to her parents' house on the occasion of Holi, due to which she is very angry with the applicant. She is insisting on going to her parents house on the occasion of Holi and taking the applicant with her. Due to this, the applicant is in dire need of leave. Sir, it is humbly requested that considering the problem of the applicant sympathetically, please grant the applicant 10 days leave from March 4." 
Inspector Ashok Kumar has written this letter to SP Ashok Kumar Meena. Ashok Kumar is posted as Inspector in Fatehgarh police station. This letter became a topic of discussion as soon as it went viral on social media.