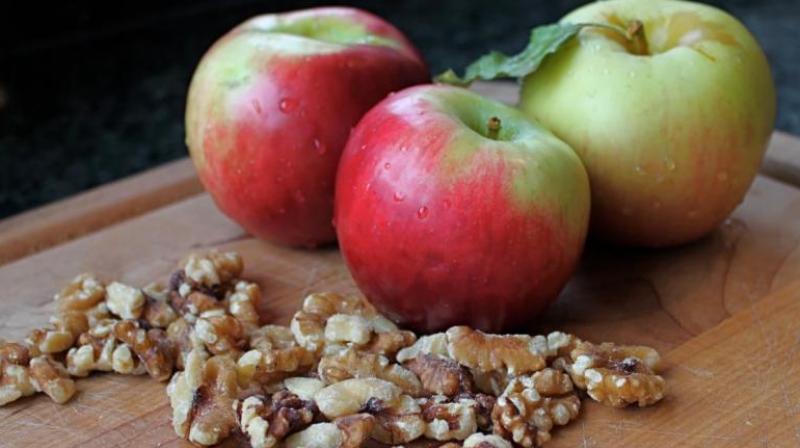 Apples and Walnuts
National Conference's Omar Abdullah & PDP's Mehbooba Mufti Advocate for Rethinking of Additional Duties Removal on Apples, Walnuts etc 
SRINAGAR: In a bid to safeguard the interests of local horticultural industries, leaders Omar Abdullah of the National Conference and Mehbooba Mufti, President of the Peoples Democratic Party (PDP), have called upon the Central government to reconsider its decision to eliminate additional duties on American imports, including apples, walnuts, and almonds.
Expressing their reservations, Abdullah criticized the move, stating that the government should prioritize the well-being of its citizens over pleasing foreign entities. Meanwhile, Mufti highlighted the potentially disastrous consequences this decision could have on Jammu and Kashmir's horticulture industry.
The Central government's recent announcement to abolish additional duties on American products such as apples, walnuts, and almonds comes as a retaliatory measure to counter the U.S.'s imposition of tariffs on specific steel and aluminum products in 2019.
Abdullah added, "If they don't want to think about the people here, at least they should have thought about the people of Himachal Pradesh and Uttarakhand. They have created problems for the people of Jammu and Kashmir, Himachal Pradesh, and Uttarakhand. We don't want imported apples, walnuts, and almonds. Our products are of high quality."
"We hope that the government will reconsider its decision and provide relief to the apple and walnut producers across the country. The repercussions of this decision will be felt by the hilly states," Abdullah further asserted.
Former Jammu and Kashmir Chief Minister, Mehbooba Mufti, took to social media to voice her concerns, stating that the region had already experienced significant losses since 2019. She expressed hope that the Prime Minister's Office would review this decision.