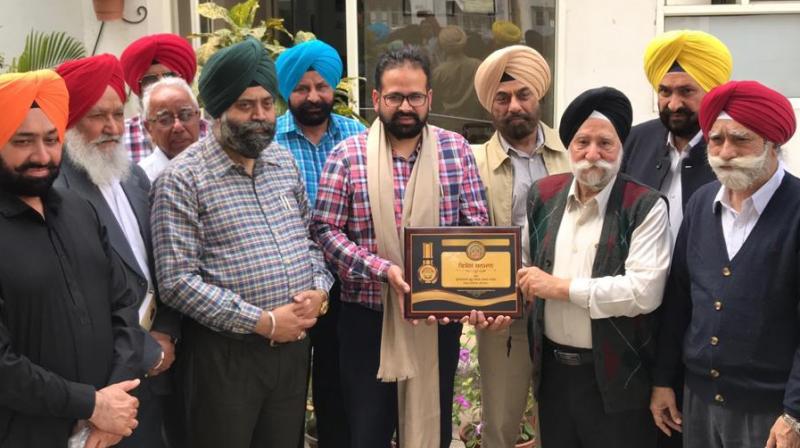 Navdeep Singh Gill's Book Released
Dedicated to the martyrdom of Shaheed Bhagat Singh, Shaheed Rajguru and Shaheed Sukhdev, the Punjab Lok Virasat Academy
Ludhiana, March 24: Dedicated to the martyrdom of Shaheed Bhagat Singh, Shaheed Rajguru and Shaheed Sukhdev, the Punjab Lok Virasat Academy organised a function at Gujranwala Guru Nanak Khalsa College, here today, where a book titled "Naulakha Bagh" penned by Navdeep Singh Gill, Information & Public Relations Officer Punjab and eminent sports writer, was released by former Vice Chancellor Guru Nanak Dev University Amritsar Dr SP Singh and other eminent personalities.
Shiromani Sahitkar Om Parkash Gaso, world renowned Sports writer Principal Sarwan Singh, Punjabi Sahit Akademi President Prof Ravinder Bhathal, former president Prof Gurbhajan Gill, eminent playwright and Director Panjab University Chandigarh Dr Nirmal Jaura, besides several others were also present on the occasion. While speaking on the occasion, Punjabi Sahit Akademi former president Prof Gurbhajan Gill informed that this is Navdeep Gill's fourth book and he has already penned three books earlier titled "Khed Ambar De Punjabi Sitaare", "Main Ive Vekhiya Asiayi Khedan" and "Akhin Vekhiya Olympic Khedan".
Dr SP Singh appreciated the efforts of Navdeep Gill and said that this book is a complete document in itself and would be very useful for the coming generations. He said that Navdeep has worked really hard to document the lives of nine eminent personalities namely Ram Sarup Ankhi, Om Parkash Gaaso, Jagdev Singh Jassowal, Prof Ravinder Bhathal, Principal Sarwan Singh, Sidhu Damdami, Prof Gurbhajan Gill, Shamsher Sandhu and Dr Nirmal Jaura.
He said that the readers would be delighted to read about various aspects of life of these nine personalities in this book. Dr SP Singh shared that it is a matter of great pride that the book features three of his students namely Om Parkash Gaaso, Shamsher Sandhu and Prof Gurbhajan Gill. Barnala based eminent writer Om Parkash Gaaso stressed on the need to ensure proper connect of the present generation with literature.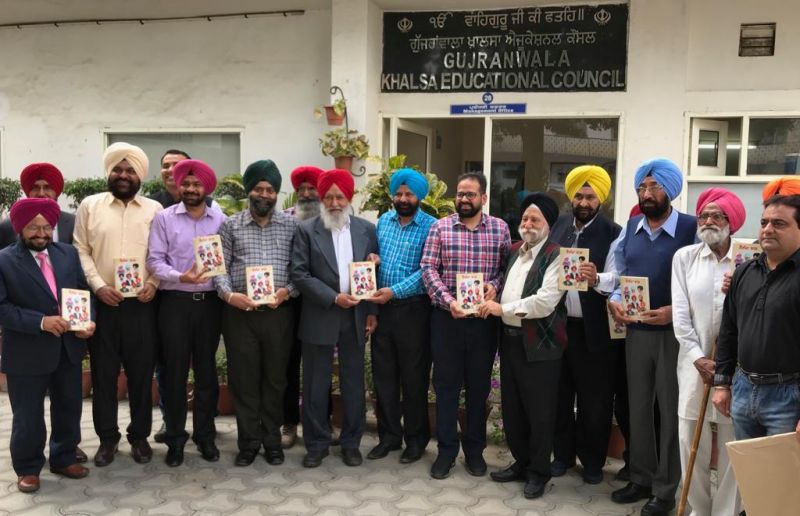 He said that he is associated with the family of Navdeep Gill and appreciated his father Surjit Singh Gill, who encouraged Navdeep to read and write literature. Toronto based Principal Sarwan Singh said that it is a matter of great pride that Navdeep is emerging as the true custodian of sports literature and has channelised his energy into the right direction. He said that Navdeep would dedicate several books on different topics in the near future as well.
Navdeep's teacher and Punjabi Sahit Akademi President Prof Ravinder Bhathal said that since his college days, Navdeep loved sports as well as literature. He said that his writings present a mix of both sports and literature which is delightful for the readers. Dr Nirmal Jaura and District Public Relations Officer Ludhiana Prabhdeep Singh Nathowal also spoke on the occasion. Navdeep's father Surjit Singh Gill proposed a vote of thanks in the end.
Prominent among those present on the occasion included GNDU former pro vice chancellor Dr Pirthipal Singh Kapoor, Amardeep Memorial College Mukandpur founder and Chairman Gurcharan Singh Shergill, GGN Khalsa College Management Committee Senior Vice President Satbinder Singh, Hardeep Singh, ADCP-4 Ludhiana Pirthipal Singh Hayer, Jasbir Singh Grewal, Tehsildar (West) Ajitpal Singh, Sabhyacharak Satth Punjab Chairman Jasmer Singh Dhatt, Jagtar Singh Gill, APRO Ludhiana Puneet Pal Singh Gill, eminent poet Trailochan Lochi, Sehajpreet Singh Mangat, besides several others. Navdeep Singh Gill was also honoured on the occasion.