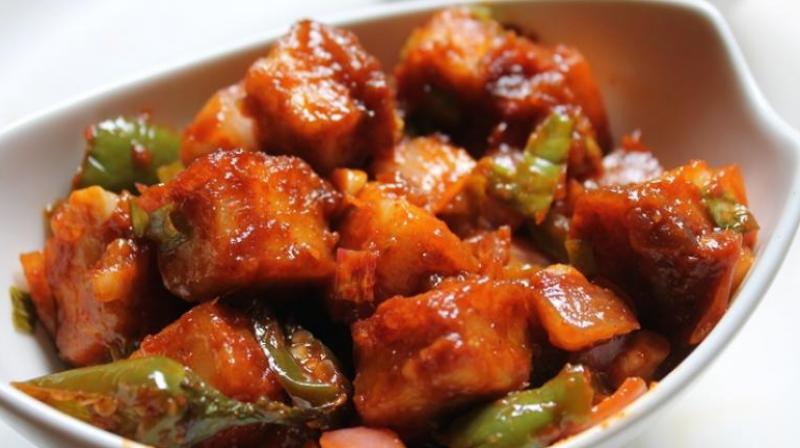 Paneer Chili
Craft Paneer Chili in the Comfort of Your Kitchen with Easy-to-Follow Steps & Common Ingredients
CHANDIGARH: Embrace your inner chef and delight your taste buds with a homemade culinary creation - Paneer Chili. This flavorful and aromatic dish boasts a perfect blend of spices, tender paneer, and vibrant sauces, offering a delightful treat that's both satisfying and easy to prepare.
For this homemade Paneer Chili recipe, gather the following ingredients: 250 grams of paneer, 2 tablespoons of oil, 1/4 teaspoon of black pepper, 1/2 teaspoon of salt, 1 piece of ginger, 1/2 bulb of garlic, 50 grams of onion, 150 grams of capsicum, 3 green chilies (sliced), 1 tablespoon of soya sauce, 1 tablespoon of green chili sauce, 1 tablespoon of red chili sauce, 1/4 tablespoon of sugar, 1/4 tablespoon of black pepper, 1/2 tablespoon of salt, 1/4 tablespoon of red chili, and 2 tablespoons of water.
Preparation: 
To Start, marinate the paneer with black pepper and salt. Fry the marinated paneer until it achieves a golden hue, ensuring a delectable texture. In a separate frying pan, heat oil and sauté ginger and garlic until aromatic. Add onions, capsicum, and green chilies to the pan, cooking them until tender and flavorful.
Next, introduce a medley of sauces - soya sauce, green chili sauce, and red chili sauce, to the sautéed mixture. Sprinkle sugar, black pepper, and salt into the mix, allowing the flavors to meld into a perfect amalgamation. Carefully incorporate the fried paneer, ensuring it's evenly coated with the flavorsome blend.
For the finishing touch, dissolve arrowroot in water and add it to the mixture, creating a delightful consistency. Stir the ingredients well, allowing them to bake together, ensuring the paneer absorbs the flavors and attains a delicious taste.
Once the Paneer Chili is ready, serve it alongside bread, making for a satisfying and wholesome meal that's sure to please both young and adult palates. Enjoy the satisfaction of creating a flavorful homemade dish and relish the comforting flavors of Paneer Chili.