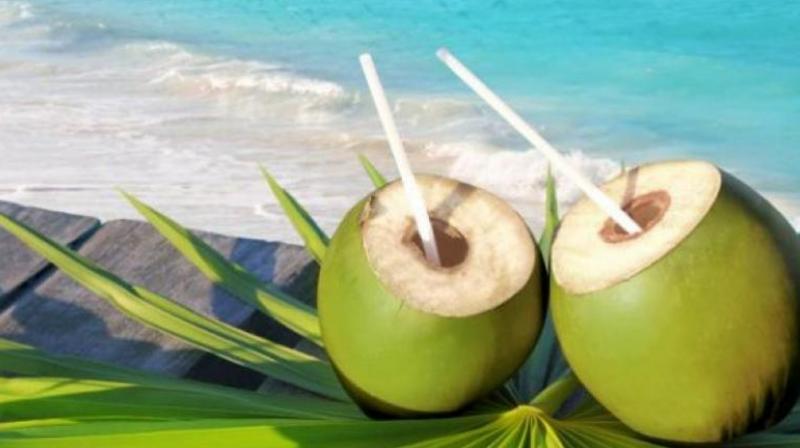 Coconut Water
Consuming coconut water in summer prevents dehydration
Coconut water is the best healthy beverage one can have in a day. It is made from the clear liquid inside green coconuts, and it contains several nutrients which gives us a lot of health benefits. Coconut water contains natural electrolytes. It may be a natural alternative to many sports drinks as it boosts energy levels. Coconut water has potassium, minerals, and vitamins. It supports in the dehydration process. 
Let us know about the best time and way to drink coconut water....
The Best time to drink coconut water is in the morning. Therefore, consume coconut water on an empty stomach every day. Also, consume coconut water during or after a workout, or shortly after lunch, and in the evening. This not only controls your weight but also gives energy to the body. 
Benefits of consuming Coconut water....
- Consuming coconut water in summer prevents dehydration in the body. When there is lack of water in the body, you face issues like diarrhea and diarrhea. 
- Consume coconut water daily to control high blood pressure. Vitamin C, potassium and magnesium present in it are helpful in controlling blood pressure. 
- Due to the presence of antioxidants, magnesium and amino acids in coconut water and being fat-free, it controls cholesterol levels. You avoid many health problems along with the heart diseases after drinking coconut water in routine. 
- Coconut water is also a great remedy for getting rid of a hangover.
- Due to excessive sweating in summer, fluids are lost from the body. Due to this, the body becomes dehydrated and you suffer from diarrhea, vomiting, headache. In such a case, consumption of coconut water increases the energy level and protects the body from dehydration. Apart from this, its consumption also keeps the blood circulation normal.
- Coconut water will help promote heart health. Its potassium may help reduce the risk of developing heart disease. Coconut water can play a role in a heart healthy diet.
- Consuming coconut water instead of sugary beverages may help a person with diabetes to  control their blood sugar levels. Unsweetened coconut water contains natural sugars.
- Coconut water may help promote kidney health, if consumed regularly.
- Drinking coconut water or applying it to the skin may have a moisturizing effect. It will improve your skin health. The drink may help reduce signs of aging.
- Coconut water supports weight loss and help with maintaining a moderate weight. If a person prefers coconut water in the diet, it could boost hydration which leads to weight loss. 
- Coconut water is a great drink to consume during and after a workout. It is rich in minerals, electrolytes and antioxidants that help to boost your energy level instantly. If you drink this water during exercise, it may prevent fatigue and dehydration.  
- Coconut water helps detoxify your body by providing hydration and antioxidants. It may also contribute to healthier-looking skin.