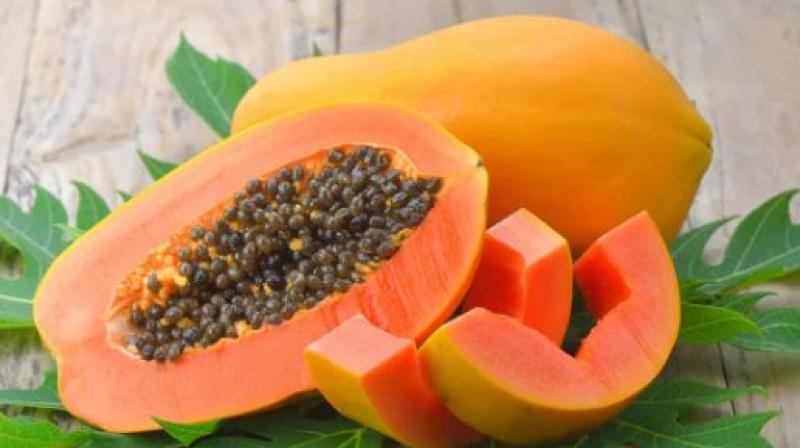 Papaya Fruit
Papaya is the fruit of the Carica papaya plant which originated in Central America
Fruits are not everybody's favourite but it is the best and healthy thing to have in the day. Here we are talking about Papaya today. This fruit is not just sweet or flavorful treat but has lots of nutrients which gives human various health benefits.
Papaya is the fruit of the Carica papaya plant which originated in Central America but is now grown in many other parts of the world. It is a very soft tropical fruit with a yellowish-orange color. This fruit is round and plump. Papaya contains an enzyme called papain, which can break down the tough protein chains found in muscle meat. Papaya can be eaten as part of a balanced diet and is relatively low in calories. 
How to eat Papaya?
Unripe Papaya always be cooked before eating especially during pregnancy or periods. If the papaya is ripe, it can be eaten raw.
Nutrients in Papaya....
Papaya has many essential nutrients as dietary fiber, calcium, magnesium, potassium, zinc, vitamin C, vitamin A, vitamin E, vitamin K, Folate and Carbohydrates. It gives us several health benefits which boosts our energy levels and concentration powers. 
Health Benefits of Papaya.....(As per Experts)
- Papaya can improve your heart health as it is high in lycopene and vitamin C which helps prevent heart disease.
- Papaya balances your cholesterol levels. 
- This fruit is a very popular remedy for constipation or other bowel related issues.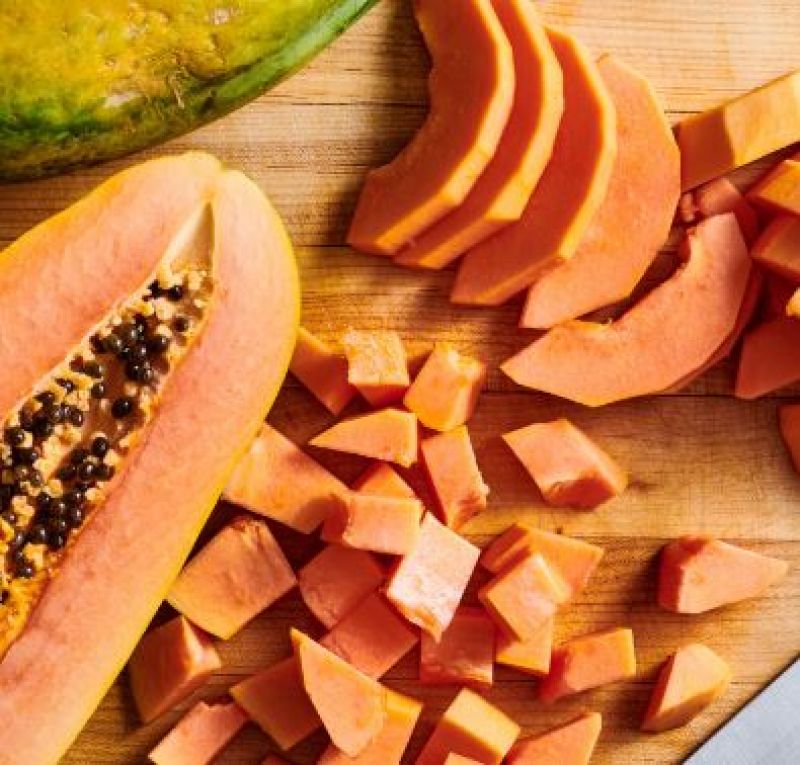 Papaya
- Papaya improves your digestion. The papain enzyme can make protein easier to digest.
- Papaya can help prevent Alzheimer disease (memory problems and a gradual loss of intellectual abilities).
- Papayas are rich in antioxidants so it can help protect cells from damage and lower the risk of cancer. A lower cancer risk is also due to papaya's lycopene, which has anti-cancer properties. 
- As a main source of vitamin C, papaya can boost your immune system and protect your body from a variety of illnesses and infections. 
- Loaded with vitamin K, Papaya can improve calcium absorption and may reduce urinary excretion of calcium which strengthens and rebuild bones in body.
- As per the experts, papaya which is high in fiber can help people with type 1 and  type 2 diabetes as it lowers blood glucose levels, and improve lipid, and insulin levels. 
- Papaya contains a rich amount of the nutrients lutein, zeaxanthin, vitamin C, and vitamin E, which can protect the eyes and help prevent eye diseases.
- Papaya is amazing for weight loss. It does miracles due to its low calorie count. The fruit is also a good source of fiber, which helps you stay full longer.
- Papaya seeds are also rich in nutrients so never think about throwing them away. The seeds are edible, so you can eat them. You can use the seeds as seasoning for many dishes or you can crush or grind the seeds before adding them to meals.