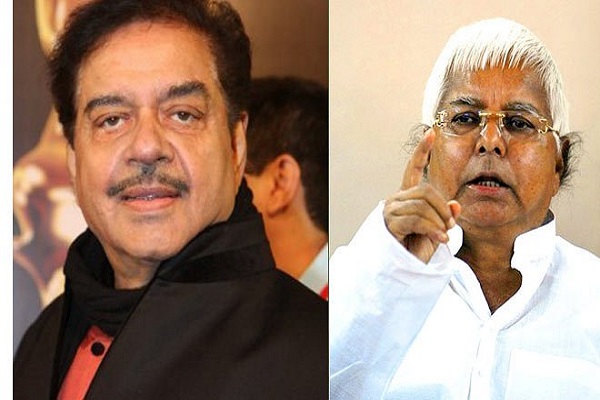 Patna: Disgruntled BJP leader Shatrughan Sinha today called on RJD president Lalu Prasad at Ranchi and described the jailed former Bihar chief minister as the "most popular son of soil" and a "mass leader".  

The actor-turned-politician, who represents the Patna Sahib constituency in the Lok Sabha, met the RJD supremo on a day the latter was sentenced to 14 years in prison in a fodder scam case.  

"I was at Ranchi to meet & greet d most popular, son of soil, mass leader LaluJi. My best wishes & prayers for a healthy & long life. Get well soon (sic)," Sinha tweeted after his meeting with Prasad at the Ranchi Institute of Medical Sciences, where the RJD supremo, who has so far been convicted in four fodder scam cases, is undergoing treatment.  

Sinha was accompanied by local Congress MP and former Union minister Subodh Kant Sahay. The development has triggered speculation about the future course of action to be adopted by the BJP leader, who has been critical of his own party and the Narendra Modi government for quite some time. 

Popularly known as "Bihari Babu", Sinha also expressed displeasure at not being invited for the three-day "Bihar Diwas" celebrations organised by the state government that concluded today.  

"Bihari Babu once again not invited to his home on Bihar Divas for reasons best known to all of us," Sinha remarked cryptically in the same tweet. PTI