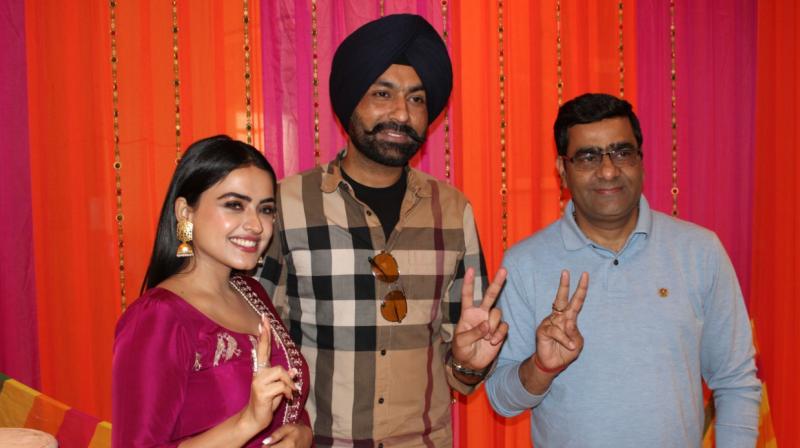 Rabb Da Radio 2
This film is produced by Vehli Janta Films and Omjee Group
Vehli Janta films and Omjee Group are set to release the sequel to Punjabi industry's classic film Rabb Da Radio that had released in 2017. Titled as 'Rabb Da Radio 2', this film also stars Tarsem Jassar and Simi Chahal in the lead roles and will release on March 29th, 2019. 
Apart from Tarsem Jassar and Simi Chahal, the film stars Wamiqa Gabbi, BN Sharma, Avtar Gill, Nirmal Rishi, Jagjeet Sandhu, Harby Sangha, Gurpreet Bhangu, Shivandra Mahal, Sunita Dhir, Tania, and Baljinder Kaur in pivotal roles. Manpreet Johal in association with Ashu Munish Sahni has produced the film under Vehli Janta films and Omjee Group banner respectively.
This film is directed by Sharan Art. Jass Grewal has written the story of the film. The music of the film has released under Vehli Janta Records label. This sequel will focus on the story after the marriage of the protagonists, Manjinder and Guddi. Speaking on the film, the lead actor, Tarsem Jassar said, "Manjinder had become a part of me when I was shooting for Rabb Da Radio. Thankfully, this character also won the hearts of all with its simplicity and values.
It is always a pleasure to recreate the magic of a classic film. 'Rabb Da Radio 2' will now take the journey we had started in 2017, forward. It will focus on the family values and bonds. I just hope that with this sequel will be able to create that same impact again and people will appreciate our efforts once again". Actress Simi Chahal said, "Rabb Da Radio was a film that gave me recognition. Every character of that story was significant in taking the whole dynamic forward.
The trailer of 'Rabb Da Radio 2' has already made people curious to know what happens to Manjinder and Guddi after marriage. We have tried our best to take you back to the beauty of the prequel and hope that people will come take this emotional and dramatic ride with us on 29th March at their nearest cinemas".
Director of the film, Sharan Art said, "I had a huge responsibility to recreate the same ambience and emotions in 'Rabb Da Radio 2' as its prequel. Tarsem Jassar is true performer and Simi Chahal is so easy in front of the camera. They made the whole filmmaking process easy for me. Now, I am really looking forward to the response from the audience."
"The poster, trailer and tracks of film have already created excitement amongst the audience.  Considering 'Rabb Da Radio 2' is a sequel, we have tried our best to keep the essence of previous part alive in this film as well. We promise you that this film will be loved and remembered just like Rabb Da Radio", the producers of the film, Manpreet Johal and Ashu Munish Sahni said.
Worldwide distribution of the film is done by Munish Sahni's Omjee Group. 'Rabb Da Radio 2' will release on 29th March 2019.