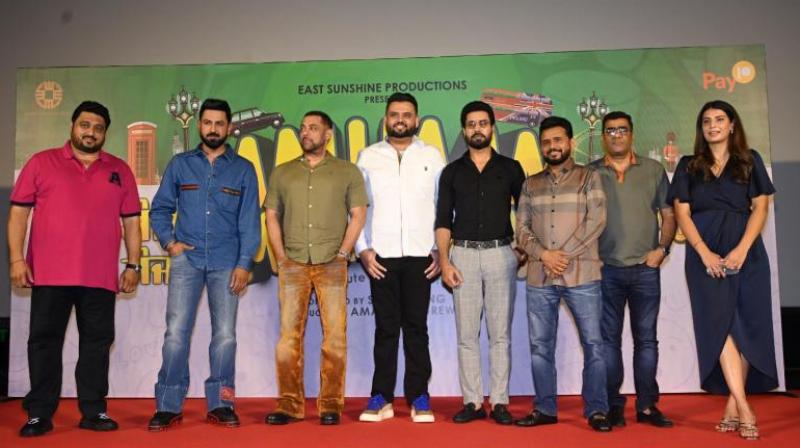 Salman Khan, Gippy Grewal and Others
Bollywood's Dabangg Adds Stardust to the Much-Awaited Punjabi Film Trailer
CHANDIGARH: The Anticipation surrounding the release of the Punjabi film "Maujan Hi Maujan" reached a crescendo as Bollywood's charismatic star, Salman Khan, graced the trailer launch event, infusing it with his signature 'Dabangg' style. The unveiling of the film's trailer was a star-studded affair, igniting excitement and setting the stage for an exhilarating cinematic journey that promises to captivate audiences.
"Maujan Hi Maujan" is poised to take its viewers on a whirlwind of comedy and entertainment, brimming with hilarious dialogues that will have audiences in splits. The film boasts an ensemble cast of acclaimed Punjabi cinema actors including Gippy Grewal, Binnu Dhillon, Karamjit Anmol, Tanu Grewal, Jimmy Sharma, and Hasneen Chauhan. Presented by East Sunshine Productions and set to be globally distributed by Omji Group World, the film is directed by the legendary Smeep Kang, with visionary Amardeep Grewal at the helm of production. "Maujan Hi Maujan" promises to be a cinematic masterpiece that celebrates the vibrancy of Punjabi cinema.
Producer Amardeep Grewal expressed his enthusiasm, stating, "I am immensely excited and honored to unveil the trailer of our upcoming Punjabi film 'Maujan Hi Maujan' with the support of Bollywood superstar Salman Khan. His endorsement is a testament to our hard work, and we hope the audience will recognize our efforts and enjoy the film with their families."
Gippy Grewal, one of the lead actors, echoed the excitement, saying, "Being a part of 'Maujan Hi Maujan,' a film filled with non-stop comedy, is truly thrilling. I take immense pride in standing here at the trailer launch of our film. The presence and support of Bollywood superstar Salman Khan have added a special touch to our event. We hope the audience appreciates our hard work and enjoys the movie!"
Notably, The Collaboration between Bollywood icon Salman Khan and the talented ensemble of Punjabi cinema is expected to elevate 'Maujan Hi Maujan' to unprecedented heights, promising a delightful cinematic experience that will leave a lasting impression on audiences.