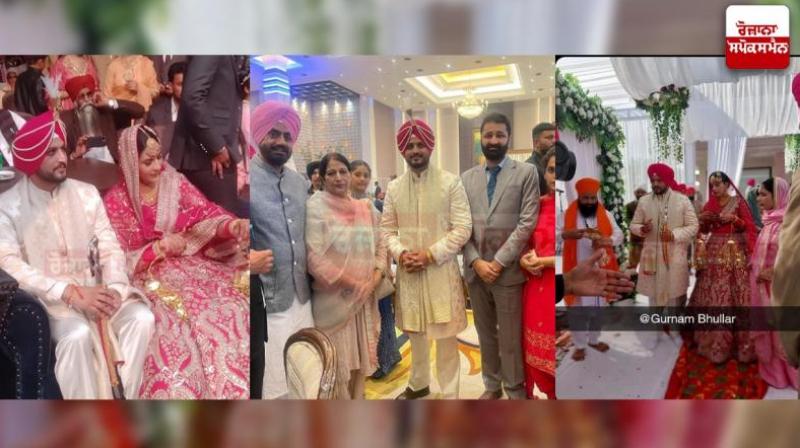 Gurnam Bhullar Marriage News
Prolific Singer and Actor Gurnam Bhullar Quietly Embraces Matrimony, Harbhajan Maan Adds Star Power to the Festivities
Gurnam Bhullar Marriage News: In a delightful turn of events, Punjabi singer and actor Gurnam Bhullar has tied the knot, as revealed by the stunning wedding pictures. The artist, known for his soulful melodies and acting prowess, is seen adorned in traditional groom attire, marking the beginning of a new chapter in his life.
While the singer has not officially confirmed the news, the pictures circulating online dispel any notion of it being part of a film shoot. The intimate ceremony appears to be a personal affair, capturing the essence of Bhullar's joyous union.
Adding a touch of glamour to the festivities, renowned Punjabi singer Harbhajan Maan graced the wedding, creating a buzz with his presence.
Gurnam Bhullar's musical journey needs no introduction, having contributed numerous hit songs and albums to the Punjabi music industry. The artist's popularity extends beyond borders, and his fans eagerly await official confirmation and details about this significant milestone in his life.
As the images continue to circulate, the heartfelt wishes from fans and well-wishers pour in for the newlywed couple, making Gurnam Bhullar's wedding a topic of joyous celebration in the Punjabi entertainment industry.
(For More News Apart from Gurnam Bhullar Marriage News, Stay Tuned to Rozana Spokesman)