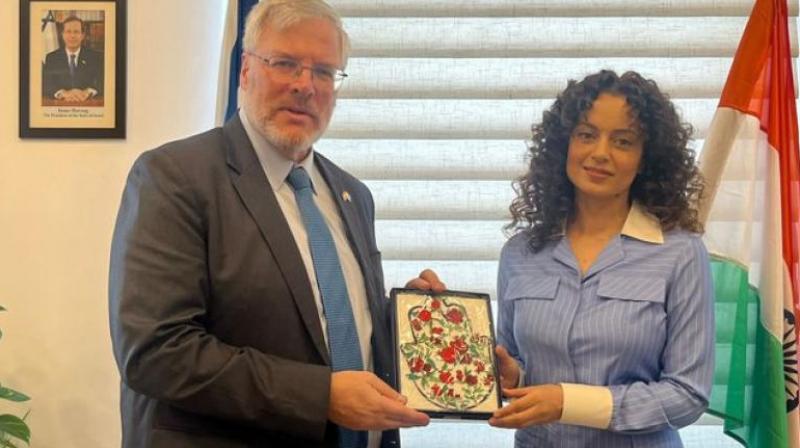 Israel-Palestine War
Israel-Palestine War: Actress Discusses Current Situation, Highlights Upcoming Film 'Tejas'
Israel-Palestine War: Bollywood actress Kangana Ranaut recently met with Israeli Ambassador Naor Gilon during her visit to Delhi, where she engaged in a conversation addressing the ongoing crisis between Israel and Hamas. The meeting served as a platform for the actress to express her support for Israel, likening the present-day scenario to the mythological character 'Ravan.' In addition to her thoughts on the Israel-Palestine War, Kangana also touched upon her upcoming film, 'Tejas.'
Kangana Ranaut, known for her outspoken views, didn't hold back as she voiced her strong support for Israel during the meeting. She referred to the conflict as a modern-day saga of good versus evil, drawing a parallel with the epic Ramayana by referencing Hamas as 'Ravan.' Kangana shared her sentiments on social media, stating, "I am with Israel from the bottom of my heart. Our hearts are also bleeding."
During their conversation, Kangana emphasized her longstanding support for Israel and its people. She acknowledged that her stance in favor of Israel and the Jewish community predates the recent events. Kangana's viewpoint echoed the sentiment that, like India, the Jews too deserve a dedicated homeland, and the ongoing situation in the Middle East exemplifies the need for it.
Kangana Ranaut articulated, "As a Hindu nation, we understand the millennia-old Hindu genocide, and in that context, we firmly believe that India is rightfully dedicated to Hindus. Similarly, Jews also deserve a nation, and we stand in support of their cause." The actress added her belief that, while land may be a point of contention, the response from certain quarters of the Islamic world has been inhumane and miserly. She noted that predominantly Christian countries dominate much of the world's land.
Notably, Israeli Ambassador Naor Gilon expressed his gratitude for Kangana Ranaut's support during these challenging times. Her vocal solidarity with Israel was acknowledged, underscoring the strength of India-Israel relations.

(For more latest news apart from Israel-Palestine War, stay tuned to Rozana Spokesman)