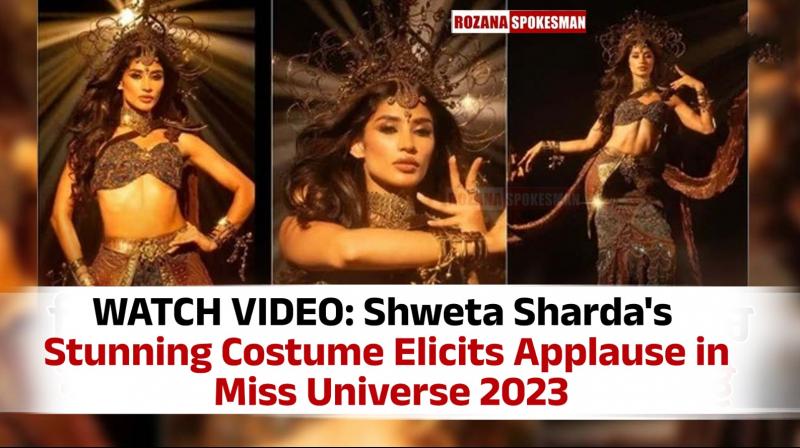 Miss Universe 2023: Shweta Sharda's National Costume
Chandigarh's Shweta Sharda Captivates with Golden Lehenga in Costume Round
Miss Universe 2023: As the 72nd Miss Universe pageant unfolds in El Salvador, Shweta Sharda, hailing from Chandigarh, emerges as a captivating presence on the global stage. In a recently surfaced video from the competition, Shweta dons a breathtaking golden fish cut lehenga paired with a crown of lotus flowers, showcasing the strength and integrity of Indian womanhood.
Shweta Sharda's Journey from Chandigarh to Miss Universe 2023 Spotlight
Shweta Sharda's journey to the Miss Universe 2023 finals has been nothing short of remarkable. Originating from Chandigarh, Shweta embarked on her pursuit of dreams in the city of Mumbai at the age of 16. Raised by her mother, Shweta, now 22, has become a symbol of resilience and determination.
Dazzling in Gold - Shweta's Impactful Costume Round Look
The recently unveiled videos from the Miss Universe competition depict Shweta Sharda in a regal avatar, adorned in a golden fish cut lehenga, complemented by a crown of lotus flowers. This visually striking ensemble not only highlights Shweta's grace but also pays homage to the strength and integrity of Indian women, earning her accolades from the audience.
Shweta Sharda's Journey Beyond Miss Universe
Beyond her Miss Universe journey, Shweta Sharda boasts an impressive resume in the world of entertainment. Having participated in shows like DID, Dance Deewane, and Dance +, Shweta has showcased her multifaceted talent. Additionally, she has served as a choreographer on 'Jhalak Dikhlaja'. Shweta, a product of the CBSE board, is currently pursuing further studies at the Indira Gandhi National Open University.
Role Model and Achievements
Shweta Sharda, who considers Sushmita Sen her role model, enjoys a substantial following on Instagram. Recently featured in the music video for the song 'Mast Ankhe' alongside Bollywood actor Shantanu Maheshwari, Shweta's star continues to rise. Notably, she clinched the title of Miss Diva 2023 in a beauty pageant held in Mumbai two months ago, with Delhi's Sonal Kukreja and Karnataka's Trisha Shetty securing other top positions.
As the eagerly anticipated Miss Universe 2023 final approaches on November 18, Shweta Sharda's journey from Chandigarh to the global spotlight stands as a testament to her talent, determination, and the indomitable spirit of Indian beauty on the world stage.
(For More News Apart from Miss Universe 2023, Shweta Sharda News, Stay Tuned to Rozana Spokesman)